How To Carve Pumpkins

1 Jul 2010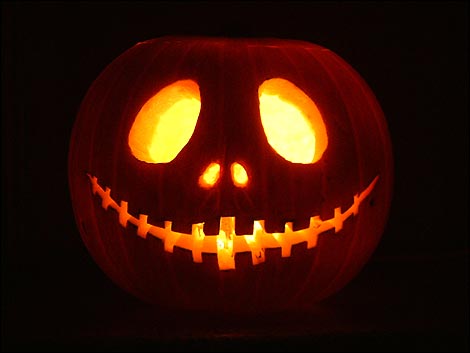 Carving pumpkins is a must-do task during Halloween. These pumpkins are also called jack-o-lanterns and a traditional Halloween is incomplete without it.This tradition allows those who are artistically inclined to show off their skills. But those who aren't need not fret. There are some easy-to-do steps which makes your task easy.
Tools To Use
 A very sharp knife
 A scooper to take the mushy part out. 
Tips To Carve A Jack-O-Lantern
First select a fresh pumpkin which is round. Take the stem out with a sharp edged knife. Scoop out all seeds and the mushy part from the pumpkin with a scooper. Retain the top part, the stem, and keep it aside.
Take a felt pen and draw the desired design on the pumpkin. Now cut along the outline that you have drawn.

 
Take out these little pieces. Cover the top part of the pumpkin with aluminum foil.

 
Now scrape the bottom of the pumpkin flat so that it sits easily.

 
Before covering the pumpkin, light a candle to make it look scary and then close the lid. Since you have lined the lid with aluminum foil, it will not burn off.
The designs vary according to your ideas.A scary-faced pumpkin, or a smiling pumpkin or even an angry pumpkin are all suitable for Halloween. These cut pumpkins will stay unspoilt for about two weeks.
You also get ready-to-make pumpkin kits which gives you step by step instructions as well as some designs which you could draw on the pumpkins. Whether you are using the traditional method or the designer one, pumpkin carving is easy. Check this method out as well...
So go on, try it. Happy Halloween!
How To Carve Pumpkins