5 Popular 4th Of July Desserts
23 Jun 2010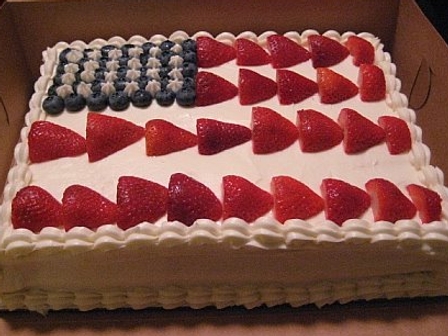 Don't want to feel left out of the Independence Day celebrations? Here are 5 popular 4th of July desserts that you can make this year and ensure that every member of your family gets his or her favorite dessert to eat.
1. Flag Tarts: Who doesn't love tarts, it's a delight to the taste-buds and easy to prepare. All you need for this interesting tart twist is tart shells of whatever size you like, white frosting, marshmallows, blue berries and glazed cherries.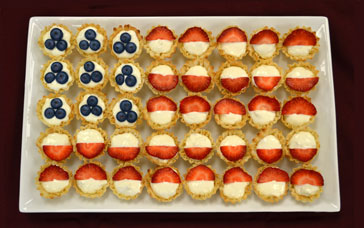 2. 4th of July layered cake: This is a rich, easy to prepare cake that I am sure you will love to bake and eat. To make this triple layered cake, prepare the cake batter using any of your favorite recipes. Ifood.tv has listed an interesting cake recipe. Once done, divide it into 3 parts. Add blue food color to one part, red food color to the other; do not add any color to the third part. Bake the three cakes separately and decorate with white frosting, blue berry jam and strawberry jam to resemble the flag.
3. Independence Day cupcakes: These are classic one person, bite sized desserts loved by kids and adults alike. Independence Day cupcakes add an interesting twist to this quintessential sweet – a perfect ending to kiddies' 4th July party. To make these, make the cup cakes as usual. Once they are cooled, cover the top and sides in thick white frosting. Sprinkle red and blue edible sparkles on the sides, and decorate with a single edible red or blue star on the top.
4. Patriotic Trifle Pudding: A Trifle pudding not only tastes great, but is a feast to the eyes as well. Served in a glass dish, the layers of this dessert add appeal and fun to any party food. This simple recipe with blue white and red layers brings the national patriotism out on the party dining table.
5. Layered Jell-O: No dessert is as popular and full of fun as the Jell-O. This wiggly- jiggly dessert is a family staple in every household. To make the tri-colored layered Jell-O, use blueberry flavor Jell-O packet for the blue layer, cranberry flavor Jell-O packet for the red layer, and Pina Colada flavor Jell-O for the white layer. This dessert is bound to be a delight for the eyes and your taste-buds as well.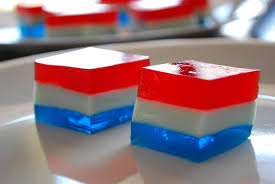 Other Articles You May Like To Read:
2. Rock This 4th Of July With These Rocking Recpes
3. Fourth Of July Cookie Ideas
Image Courtesy: craftyc0rn3r, aheartfulloflove, oneworldveggie, followingherfootsteps, athensfoods
5 Popular 4th Of July Desserts