Thanksgiving LOW FAT THANKSGIVING FEASTING Many of us are trying to eat a healthier low fat diet and as the holidays are approaching we worry about making the correct choices.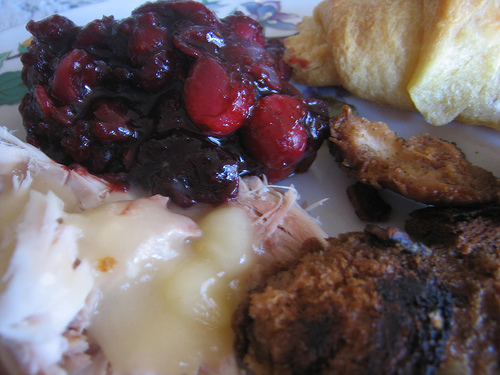 Thanksgiving is often a time of not only over eating but eating the wrong things that are loaded with fat and sugars.  Take small portions placing on your plate so they don't overlap.  This healps in limiting yourself.  Forget the seconds, just eat until you aren't hungry any more.  Do NOT stuff yourself!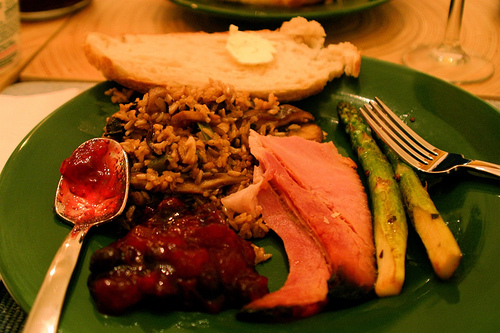 Many opt for ham in place of the turkey.Many of the traditional foods served during Thanksgiving are very healthful. It often is a case of quantity that we serve ourselves and making the wrong choices.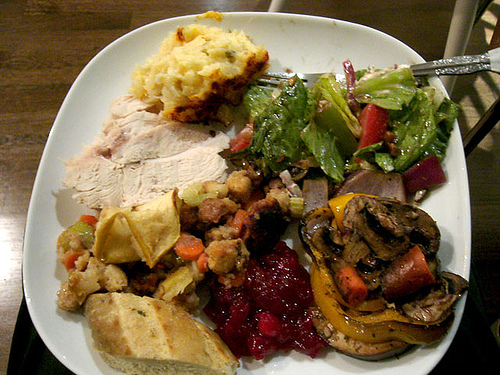 Choose healthy appetizers like a Black Bean Salsa with corn and chiles.  Baked Chips are a great choice or even make your own from carb free tortillas and baking them.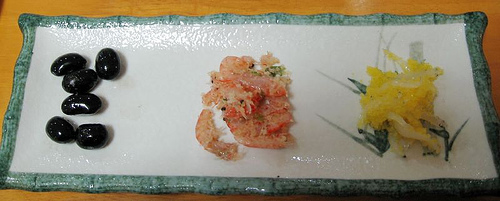 Another great crunchy choice is papadams which you "cook" over a flame.  These are made of garbanzo/chick peas and are a good source of fiber and protein.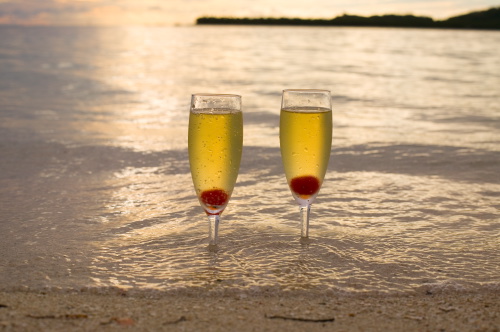 Boiled shrimp with a horseradish cocktail sauce is a low fat treat.  Boil the shrimp ith Olde Bay Seasoning for a nice flavour booster.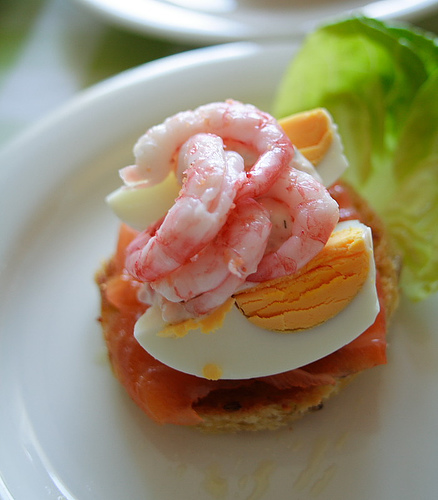 Crab legs or even crab cakes that you bake are a great and healthy appetizer.  Stay away from the cheese tray with it's triple creme brie and other temptations.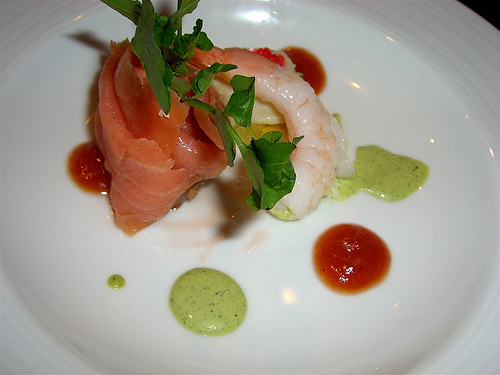 Raw or blanched assorted veggies with a fat free yogurt or sour cream dip will be a great option.  Olives are healthy choice. A squash or pumpkin and ginger soup is a great choice and of course a mixed green salad loaded with veggies dressed with a low fat dressing.  Salads and soups really fill you up and help reduce the risk of over eating the wrong things.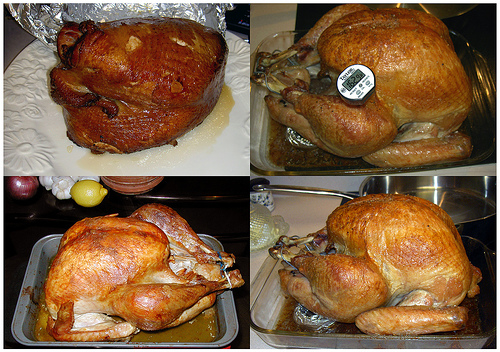 Turkey has little fat!  That is the good news and it is loaded with B Vitamin.  Turkey needs to be limited for anyone with kidney issues, especially kidney stones.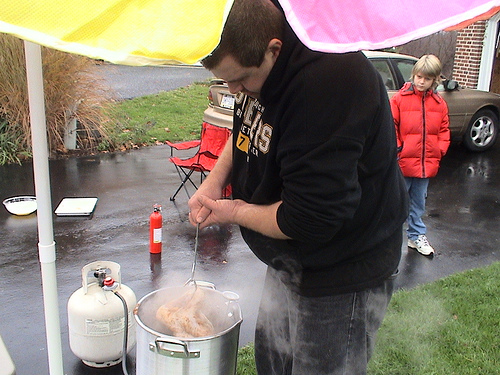 Some prefer to deep fry the turkey which keeps it moist and it cooks quickly.  Just don't eat the skin!It is important to remove that tasty crunchy skin on your piece of turkey if you want to maintain a low fat diet.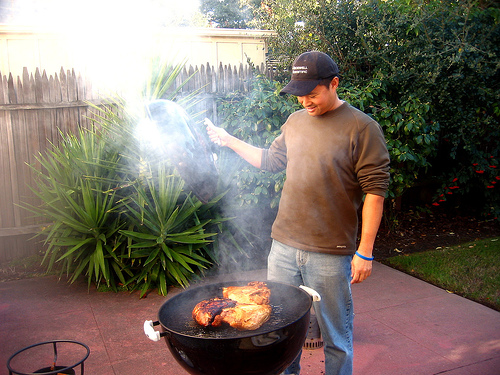 Tea Smoked Turkey Traditional Mexican Thanksgiving will include tamales A three-ounce serving of skinless turkey breast has about 120 calories and 1 gram of fat. I prefer the thigh or dark meat and a 3 ounce skinless serving contains about 160 calories and six grams of fat (two grams of which are saturated).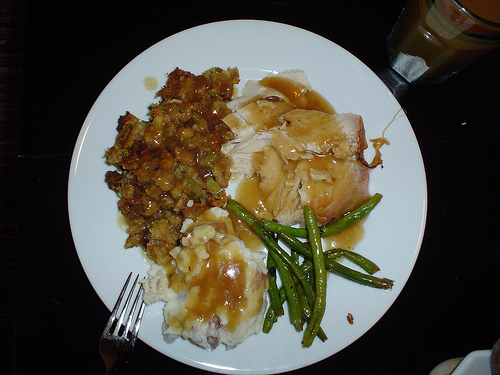 Use a quinoa stuffing using fat free chicken broth in place of butter and sauted onions and garlic and fresh herbs in place of the fat loaded bread stuffing.  Again limit your portion size to 1/2 cup. Sourdough bread stuffing also is lower in calories if you just can't forego bread dressing.  Use a low fat turkey sausage, celery, onion, Italian flat leaf parsley,  thyme, sage, pepper, and fat free chicken broth in the stuffing.
Gravy-make a fat free gravy by skimming all the fat from the drippings.  Limit the amount of gravy to 1/4 cup.
Many families opt for a sweet potato or yam side dish of some sort.  Sweet potaoes and yams are a rich source of beta-carotene, vitamin E, vitamin C, potassium and fiber.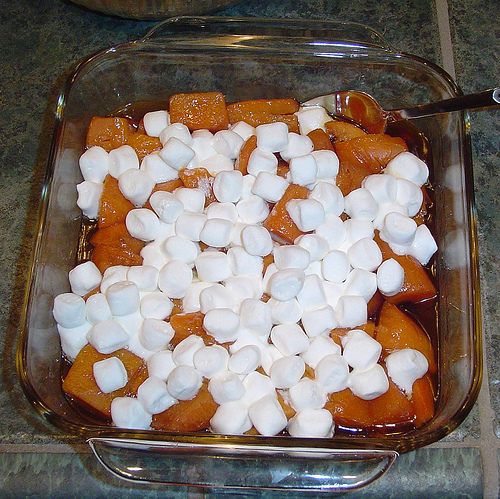 Not a Healthy Choice!If you prepare them with no butter and use fresh orange juice and zest or a can of crushed pineapple  for sweetness the calories will be cut back, but limit your derving to 1/3 of a cup. If you barbecue your turkey grilled veggies are a great choice.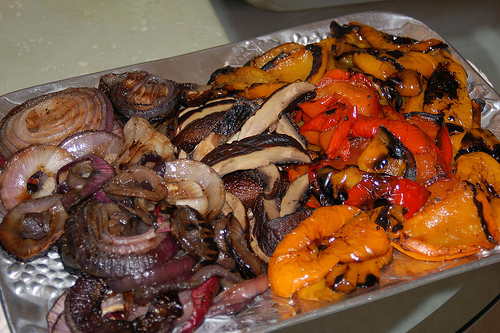 Now if your choice is mashed potatoes use a fat free half and half in place of heavy cream or fat free chicken broth to mash them with and lotsa freshly groundpepper for a flavour boost.  Potatoes are a great source of vitamins and minerals.  Just make sure to keep your portion small i.e. under 1/2 cup. Cranberry sauce is an excellent choice as it contains compounds that prevent UT infections.  Use orange zest and juice to increase the vitamin C and to zap up the flavour.  I often add some freshly grated ginger, a little cinnamon and a touch of nutmeg to our cranberries as well.
Roasted or steamed vegetables are a great choice.  Use seasonings other than butter such as tarragon with carrots and parsnips,  Brussels Sprouts with chestnuts, garlic, a touch of maple syrup and a turkey bacon crumble will cut back on calories but be very high in flavour. Healthy Choice brocollini with garlic
  Forget the fat and sodium ladened Green Bean Casserole with it's deep fried onions on top. 
 Instead opt for fresh or frozen green beans sauteed with carmlized shallots and garlic.  Use a healthy choice olive oil in plce of butter on the veggies.
Many families opt for a buffet style or to eat at a restaurant.
 Our family always has a sit down with the food being served family style.  We usually have a turkey so there are leftovers to make enchildadas, but the main attraction will most likely be a Beef Wellington and most likely a game choice like venison, and many veggies.  The appetizers will include Beggars Purses, Mini Crab Cakes with a Chipotle Hollandaise, Masala Phyllo wrapped Shrimp, etc.
I know desserts can be a problem to limit fat and sugar, but use a phyllo dough in place of a pastry crust.  Use fat free half and half in place of cream in a pumpkin filling or use fresh apples with a small amount of brown sugar.  A fresh fruit tart is a great option using phyllo dough.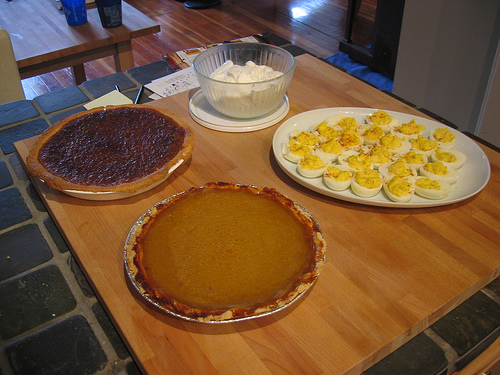 Deviled Eggs are a popular American appetizer, as well as Pumpkin Pie and Pecan Pie for dessert-all high in fat.
Another great dessert choice is a Pumpkin Souffle using Newchatel (low fat cream cheese).
Typical family Thanksgiving-many bad choices here!  Not our meal.
It is important not to starve yourself saving up calories for Thanksgiving dinner.  Eat a low fat breakfast such as veggie omelette with a beaten egg or egg whites.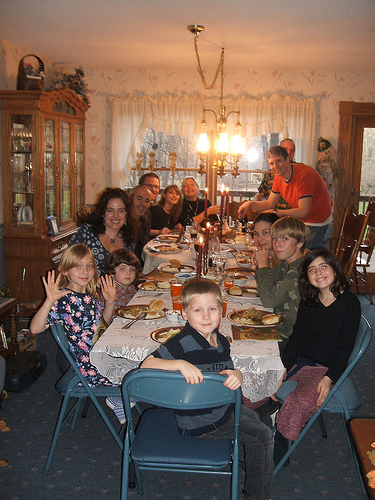 Typical family Thanksgiving gathering
Be sure and limit your alcohol consumption as those glasses of champagne and wine calories add up real fast as well as making you hungry.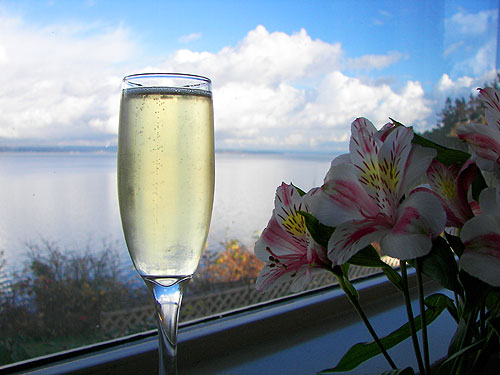 Drink lotsa water!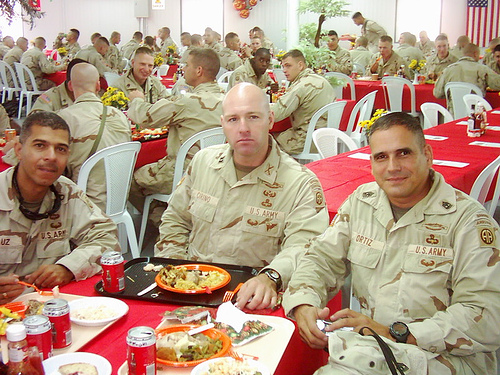 Although Thanksgiving is a Traditional family time many will not be home with their families for the celebration.
Thanksgiving for those alone is offered by various organizations
 
Thanksgiving