Spanish Christmas Foods
11 May 2010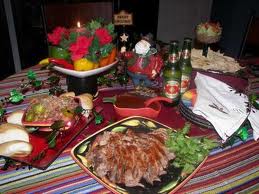 In Spain, Christmas is celebrated with a huge family feast, where a range of Spanish Christmas foods is laid out for everyone to enjoy.  Christmas eve is called "La Noche Buena" in Spanish, which means, "The Good Night." As far as Spanish Christmas food goes, it definitely is a good night.
The Spanish Christmas menu for Christmas Eve, with its several courses, may stretch from appetizers, first course, main course, dessert to coffee and after-dinner drinks. Since most of Spanish Christmas foods are easy to prepare, you can bring a Spanish touch to your Christmas festivities as well, with help from the following lines:
1. Tapas (Appetizers):
Spaniards relish their appetizers, just like every other country. This is because the tapas or appetizers set the course for the rest of the dinner to follow. Choose from the following Spanish appetizers to serve at your Christmas dinner party:
Allioli: made with garlic, oil and salt and served on bread or with  potatoes
Banderillas: also called pinchos de encurtidos, these are made of food items liked olives, baby onions, baby cucumbers, which are skewered together and pickled in vinegar
Chopitos: Tiny squid, battered and fried.
Empanadas: Meat or vegetable-filled turnovers.
Pimientos de Padron: Made of small green peppers, grown in Padron municipality, which are fried in olive oil.
Pincho Moruno: A kind of kebab-stick, made out of chicken or pork.
2. Primer Plato (First Course):
The first course dishes of Spanish Christmas menu are as follows: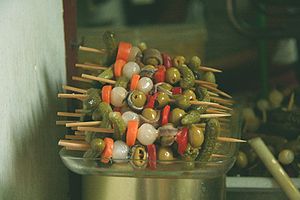 Sopa de Pescado y Marisco: This soup, made out of fish and shellfish, is a classic recipe, which makes for a delicious start to the feast.

Almond soup: This creamy concoction is sweet and savory, specially prepared on Christmas eve after being flavored with saffron.

Esparragos blancos: Spaniards are mad about white asparagus and its delicate texture and subtle flavor.

Spanish Romesco Seafood Pasta Salad: This recipe combines the traditional Spain with the modern one. Classic Romesco sauce is tossed with cooked shrimp and pasta to make this salad.
3. Plato Principal (Main Course):
The main course of second course is also known as "Segundo plato" in Spain. The main dishes served in this course primarily contain beef, lamb, poultry or game. A few examples:
Sea Bream (Dorado) with Saffron and Sherry: Dorado, usually caught on the Cantabrian and Galician coasts, is an expensive fish but most liked on Christmas eve. Dorado is grilled and served with potatoes and onions and the sauce, poured over it, is made up of sherry and peppers.

Cordero Asado: This roast lamb requires far less work than roasting a turkey and also a nice change from the usual turkey roast.

Patatas Fritas: Home-fried potatoes are served with roast lamb but can be served even without it. Always serve in sufficient quantity because these lightly fried potatoes will disappear within no time.
4. Postre (Dessert):
The Christmas desserts are the pinnacle of Spanish cuisine and there is a huge variety to choose from: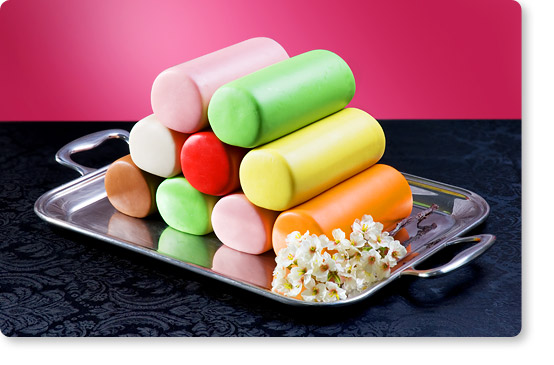 Turron: Turron and Christmas are synonymous with each other.

Marzipan: A mix of almond and sugar, Marzipan is a Spanish dessert, eaten all over the world.

Mantecados: A Spanish variety of crumble cake, mantecados have been around for hundreds of years.
Remember, when it comes to Spanish Christmas Foods, eating well is the key! Therefore, always leave a little room while eating from the start, so that you enjoy each course and fit in a dessert as well. After all, you wouldn't want to miss any part of the Spanish Christmas
Photo Credit- ifood.tv
Spanish Christmas Foods