Holiday Cupcake Ideas
28 Apr 2010
This blog gives you holiday cupcake ideas. Holidays are the time to celebrate and have loads of fun. How about indulging in sweet treats? Baking and decorating candies at home with your family is not only a fun way to celebrate festivals but also to have great time together. Making holiday cupcakes is one such amazing idea that will be enjoyed by kids. Cupcakes with typical holiday designs on them will elevate the mood of festivity. A few holiday cupcake ideas are listed here.
Christmas Cupcake Ideas
Christmas cupcakes can be made using several creative ideas. Bake vanilla cupcakes and design Christmas trees on the top using green gumdrops, red candies and white icing. Or use red candies, red and white icing, white marshmallows and grated coconut to make faces of Santa on the top of chocolate cupcakes for Christmas. 
Valentine's Day Cupcake Ideas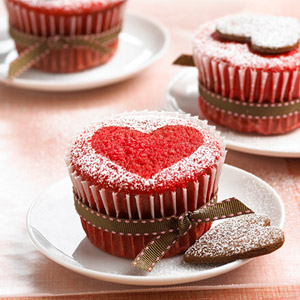 There is no better way to express love than lovely cupcakes in red or pink with heart shaped designs on them. Vanilla cupcakes can be frosted with pink frosting and then decorated with hearts. These hearts can be made from red candies. Another interesting idea is to prepare the cupcakes in heart shapes by using heart-shaped cupcake moulds. A few of these can be put in a box and packed. The gift will be lovingly appreciated. 
Halloween Cupcake Ideas
Halloween reminds one of fun holidays and candies on one hand and ghosts, pumpkins and creepy bugs on the other. So, Halloween cupcakes may be decorated in ways more than one. Pumpkin designs can be created using frosting over the top of vanilla cupcakes. Or, cupcakes may be frosted in deep colors and then plastic spiders and spider webs can be placed on the top.
Holiday Cupcake Ideas