BHANDARA :A Unique Food Tradition During Navaratri!
Navaratri  is being celebrated throughout India with traditional flavour and geity. Navratri  is a Hindu festival of worshiping Goddess Durga . The festival is celebrated for nine nights twice every year during mid-March and the beginning of October.
Goddess Durga!
The most unique food related feature of Navaratri celebration is- BHANDARA .
During Bhandara, Prasad is  distributed to each and everybody taking part in the celebration. Prasad is a gracious gift.  Anything, usually edible, that is first offered to Goddess Durga and then distributed in Her name to devotees.In its material sense, prasada is created by a process of giving and receiving between a human devotee and the divine god.
During Bhandara mainly fruits ,sweets, poori, chole ,halwa etc.are distributed as prasad.People enjoy with this prasad items  in full devotional way. Mainly temples are arranging bhandaras regularly specially during Navaratries as well as common people. 
Exclusive Visual scenes of Bhandara from Delhi: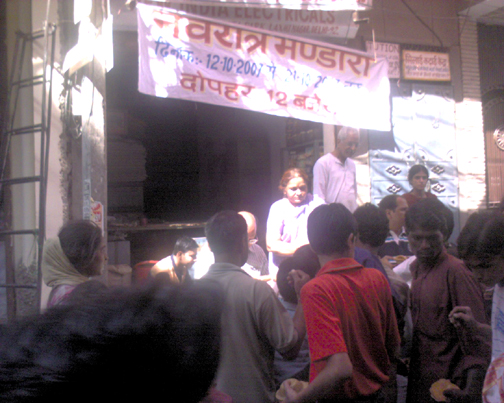 Navaratri Bhandara: Prasad Distribution!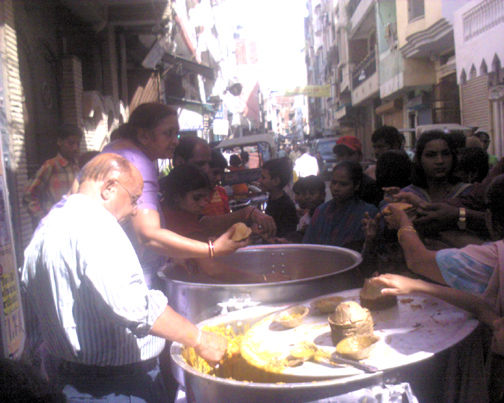 Prasad Menu: Poori and Chole!
  waiting for  Divine Bliss!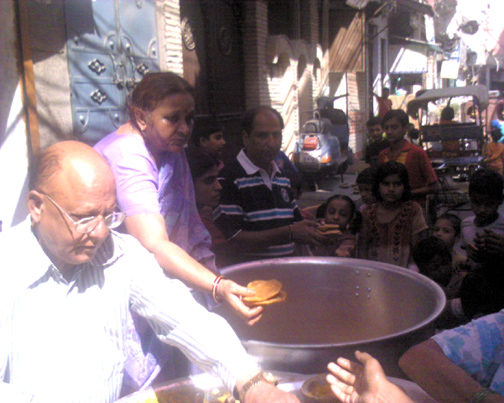 A Unique Food Tradition!
 Taking the Devotional Taste!
 HAPPY NAVARATRI : JAI MATA DI!
 Navaratri utsav with ifood.tv:
 http://www.ifood.tv/blog/navaratri_fasting_menu
http://ifood.tv/blog/navaratri_with_delicious_sweets
BHANDARA :A Unique Food Tradition During Navaratri!