14 romantic ideas for 14th feb
26 Jan 2007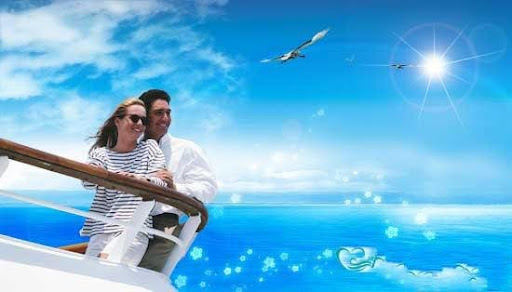 Here some ideas for making valentine's day more romantic:
1.Take a ride to see the trees in spring blossom.
2.Take a horse-drawn carriage ride.
3.Watch the sunset together (best at the lake, ocean, or mountains).
4.Take a moonlight canoe ride. Be safe (wear life preservers, just in case)!
5.Have a candlelight picnic in the backyard.
6.Renting a pair of skates is only a few dollars. After a couple of hours of skating when hands are frozen and the excitement has worn off, go home and make some hot chocolate and enjoy cuddling the night away in front of a warm fire.
7.Find a restaurant in a little town about an hour away. Stop every now and then to take pictures of each other (or have someone take a picture of you together). Take romantic pictures, funny pictures, pictures of the scenery. If you time it right, you can get a picture of the sunset. Get the waiter to take your picture. Then on your next date, after getting the pictures developed, make a collage of your date together.
8.Go to a formal dance. Frame a picture of you and your date, wrap it up, and present it at the conclusion of your date.
9.Take a walk on the beach. If you live near the ocean or a large lake, taking a walk on the beach or the shoreline at sunset or in the moonlight can be very romantic and peaceful.
10.Show up with 2 letters (one for each of you) and some paper and pens. Write each other a letter saying how you feel about the other or anything special about the relationship and where you think you'll be or what you think you'll be doing in a certain amount of time. Then, agree to open them in a week, month, year, etc.
11.Throw a prom! Hand your spouse an invitation when he/she leaves the house in the morning with a blindfold and a nice outfit. Give instructions to spruce up, put on the blindfold when he/she gets to the door, then knock. You must look your best, also. Decorate your living room in a prom type style and set out a candle light dinner. Have music playing when he/she enters.
12.When your date is far away or busy, do this: Before you hang up ask him/her to meet you in your dreams (in an open baseball stadium on the pitchers mound, in a canoe in the middle of the lake at sunset, etc.). Be specific.
13.Take a walk on the beach, bring some sodas/sandwiches, and have a nice romantic talk. Sit on the dock with your feet in the water.
14.Go out to the lake just before sundown, where you have a boat waiting. Inside the boat there is a small cooler that contains 2 plates of spagetti, chopsticks and candles. Float out on the lake and have a candlelight dinner (an maybe go for a swim). Finish the night with s'mores.
Image Credit: amazedwallpaper.blogspot.in
14 Romantic Ideas For 14th Feb