Loy Krathong
Loy Krathong is celebrated on the Third Lunar Moon in November (Nov 3rd this year).  This festival is celebrated all over the Kingdom of Thailand.
 A Krathong is shaped often using banana leaves woven into a lotus shape with flowers, then a candle and sometimes sparklers on top. It is the custom to place a small coin (baht) and a piece of hair or something of your self in the top area.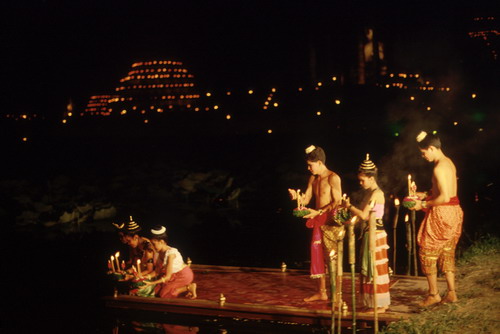 The festival is a tribute to the Water Goddess, Mae Nam, who they believe will bring good luck.  This is done in celebration of the rainy season.   It is to thank her for the furture crops IE rice.
Its believed by lighting the Krathong and floating it away down a river, pond, or lake that one's bad luck and bad doings will be carried away. Therefore, starting giving you a chance to start over for a new year.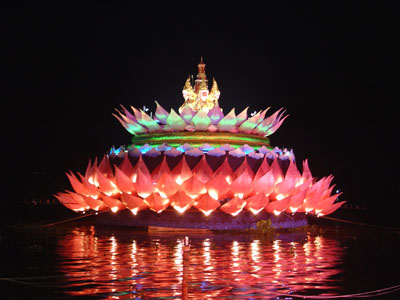 There is a legend about Nang Nopamas, who was a royal consort to King Ramkhamhaeng (founder of Sukhothai).  According to legend, Nopamas made the original Loy Kratong to appeasen Mae Nam, and set it afloat in the palace canals so that it would pass by her lover, the King. The King was enchanted by this creation and by Nang Nopamas forever after, hence the belief that if two lovers set a kratong into a waterway and it stays afloat until it has left sight, their love will last forever.  Loy Krathong is sort of a Thai Valentin's Day.
 
During Loy Krathong you'll see men and women dressed in beautiful cultural outfits. There also many beauty pageant held at Loy Krathong especially in the countryside.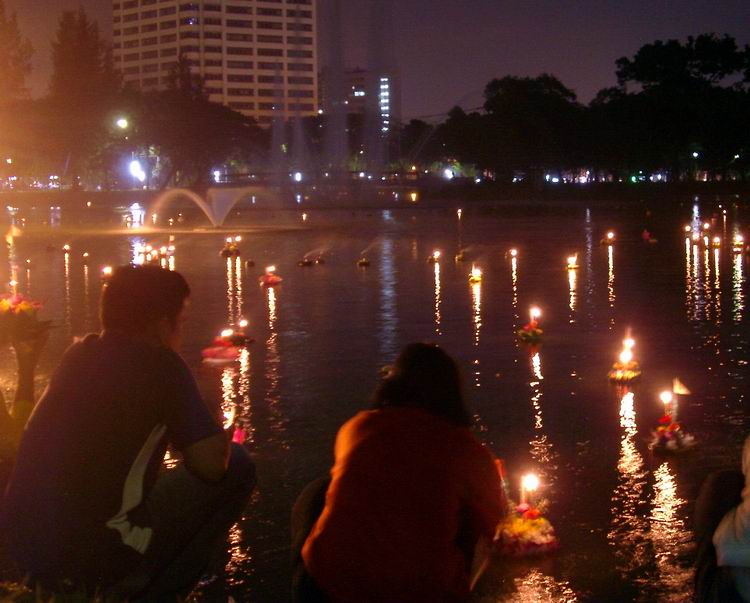 In some areas lanterns are let off.
 
It is becoming more popular to form a Krathong from bread as it is more eco friendly as it feeds the fish.  In fact The King used a bread Krathong this day!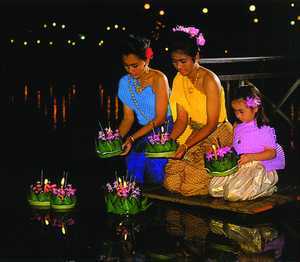 Of course Loy Krathong is celebrated eating many wonderful Thai sweets.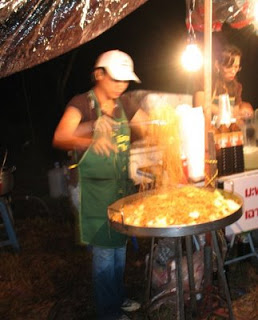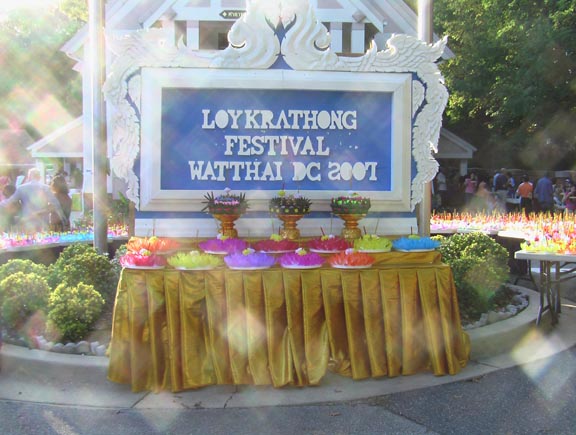 some photo thanks to-bangkok.metblogs & planet.kapook
Loy Krathong