KFC secret recipe revealed!
21 Jul 2009
It looks like the secret recipe for Colonel Sanders KFC has been unraveled by a former Wall Street executive. From figures to spices, Ron Douglas, ex- Finance Director at JP Morgan has quiet a story to weave. He started his quest to uncover the secret blend of herbs and spices in the KFC recipe a few years ago.
 
 
From unsuccessful attempts at bribing a KFC cook to struggling for years and even leaving a job, that paid him a 6 figure salary, Ron Douglas has come a long way! He claims that though no one knows what spices and herbs are used in KFC his recipe is the real deal!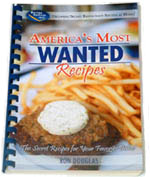 He had discovered on his struggle to get the original Colonel Sander KFC recipe that he is not alone in his craze to recreate favorite fast food and chain restaurant recipes. It is this that led him to open his own site,  RecipeSecrets.net, for common minded enthusiasts. Check it out and if you can purchase the book, "America's Most Wanted Recipes" which he has already published and has the secret KFC recipe! In addition to the KFC recipe the book also reveals how to prepare almost 200 meals from 57 different eateries including Applebees, Denny's, and Cheesecake Factory.

 
Image Credits
 
www.flickr.com
KFC Secret Recipe Revealed!