Brainfood Teens Cook at The White House.
A lucky bunch of teens from Brainfood got to cook at the White House for the first families first independence day. Brainfood is a non profit organization based in Washington DC that uses cooking for youth development. The 20 teens of Brainfood, many of whom are from the not so rich neighborhoods of Washington DC was invited by the first lady.
Brainfood teens at the White House
 
Brainfood Chef Asha at the White House
 
The Brainfood teens assisted Executive Chef Cristeta Comerford, Assistant White House Chef Sam Kass, Pastry Chef Bill Yosses and Assistant Pastry Chef Susie Morrison to prepare the July 4th barbecue for a 1200 strong crowd! At Brainfood which was founded in 1999, cooking is not just a skill required for ones survival. Brainfood sticks to the beleif that cooking can help in more ways than one. Aside from teaching the teens how to cook for themselves, through cooking they also focus on developing leadership skills, how to work in teams, make healthy living choices and even mathematical skills. How can math be a problem after all the weighing and measuring!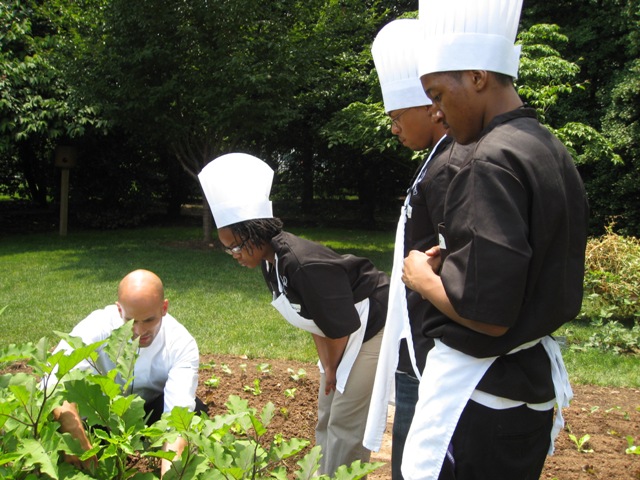 Brainfood teens at the Garden
 
Brainfood teens with BO
 
The teen cooks also got a chance to dig around at the White House garden and even pet the first dog Bo;-)! The Brainfood teens sure got a "once in a blue moon" opportunity and it seems like they enjoyed it!
Read the news story here.
 
Image Credit
www.brain-food.org
Brainfood Teens Cook At The White House.