World's Sexiest Hotels for Making Love
4 Apr 2009
Sexiest hotels in the world that would get you into the mood! These hotels have gone the extra mile in packing in everything that is required to brew up an unforgettable carnal retreat.
Hydropolis Underwater Hotel, Dubai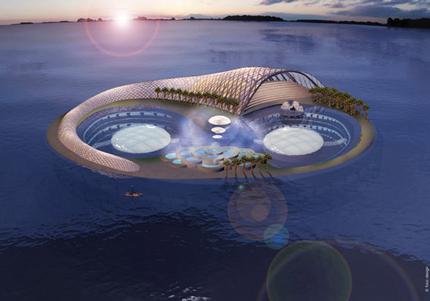 No one will come peeping, except for the dolphins and sea turtles pausing to check who the new guest in the bubble suite is. The creators made it a point in making every nook and corner of this underwater hotel sexy – the use of clear glass walls for separating sleeping area walls is indeed an awe inspiring idea. What else can add to the sensual vibe than making out enveloped in the warmth of the deep blue sea! Wonder whether the mermaids would pop up as the party pooper!
Propeller Island City Lodge, Germany
Choose the colour of the room as per your mood! If the subtleness of blue is your pick, Propeller Island City Lodge has the Blue Suite, if freshness of orange is your bet, grab your partner and head to the orange suite! Ooh, this hotel is quite colourful. What impressed me is the crazy bed mechanic in the Space Cube – the bed has an illuminated barrier which can be moved up or down (guess the best way to keep you both separate when a silly-sweet quarrel pops up)! Rooms with elastic floor (yeah!), nude pictures, high bed, and hell lot of other crazy, yet sexy, ideas makes this one of my favourites.
Flirting with the senses is sure to go beyond the limits at the Ivy Hotel, San Diego. It goes without saying that Red is Hot! and when it is blended with sexy ambiances like stripper pole, king size bunk beds and glass enclosed bathtub it just adds extra ounces of urge! See your inhibitions vanishing in a swish at this erotically superb suite!
Palms Hotels Erotic Suite, Las Vegas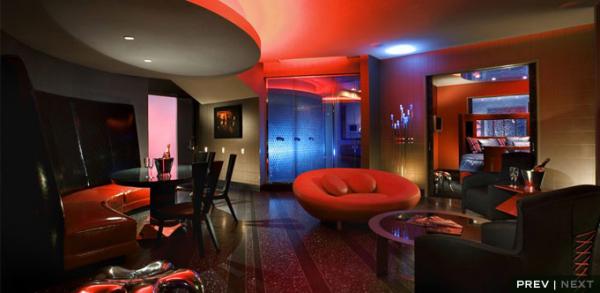 Las Vegas is no more for casinos alone! A stay at Palms Hotel Erotic Suite here is sure to stir your senses and believe me when I say you will never have enough here – by the way, a suite with stripper pole, fogged windows, and everything else with an erotic touch only adds to the carnal urge. And the winning deal here is the 8 foot round rotating bed – look up and you get to see the passion of you both getting reflected on the mirrored ceiling.
Hotel Adonis, Osaka
 
 
Shed your inhibitions and behave way too kiddish at Hotel Adonis, Osaka. The themes of the room vary from hello kitty to high school classroom! If the idea of doing the deal amidst Hello Kitty dolls, pillows, and walls is your pick, take my word you will go gaga for the theme rooms at Adonis. What else can add oomph to the passion factor than being innocent when you really are not! :)
Image Courtesy: Photograph by Misty Keasler from Love Hotels: The Hidden Fantasy Rooms of Japan
Do you have any hotel in your Hot-For-That list? If so, I am only too glad to hear about it - me all ears!
World's Sexiest Hotels For Making Love