Pizza vending Machine in Italy - pizza in 3 mins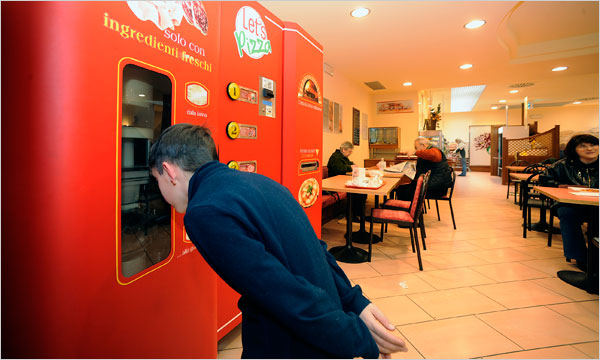 Vending machines have definitely been an integral part of our lives. Want a drink rush to the vending machine across the street. Now you can do the same when you wish to dig into a pizza. It is all about walking across to the pizza vending machine and the pizza is ready in no time just the way you like it. A machine, that can perform the dual role of warming up a frozen pizza and also bake a fresh one right from scratch. The vending machine starts right from the basics with making the flour, putting together the sauce, the toppings. And all it takes for a freshly baked pizza is 3 minutes. Just right for those in a hurry.
Pizza with your favorite toppings in 3 minutes flat. Mr Torghele, a 56 year old man is the man behind the machine. The vending machine is called "Let's Pizza". Let's Pizza is fitted with small windows on the front so you can actually watch how your pizza is being made. And all this for as little as $4.50.
The vending machine trend is one to take over the food world soon. With vending machines for pasta, salads and sandwiches, you can have what you please at any time of the day. A waiter who doesn't get tired serving you – introducing the new age vending machine that can serve just about anything or rather everything.
Just hope that the vending machines can strike the right balance between taste and health.
Pic courtesy :nytimes
Pizza Vending Machine In Italy - Pizza In 3 Mins