Are You Directionless? Give a chance to Astrology!
17 Jul 2007
"In this era of modernization and technological advancement the human mental stress is on its peak. Thousand of directions are available to achieve a goal. But the most of people are unable to identify his right path. Here astrology comes to rescue" said famous astrologer Pandit Ajai Bhambi in his latest book ("NEECH BHANG RAJYOGA") releasing ceremony. I was invited to attend the event. I undergo very good experience, which I want to share.
( Pandit Ajai Bhambhi with honourable guests)
Former cricketer and new laughter image of India Mr. Navjot Singh Siddhu (also member parliament, Lower house, India) was the chief guest and ceremony was presided over by a famous politician and former Deputy Speaker of Upper House of Indian Parliament Dr.Nazma Heptullah.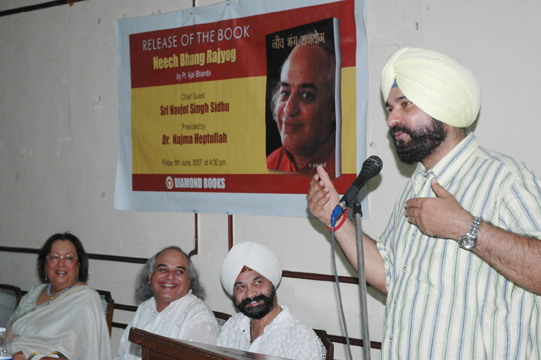 ( Siddhu taking guard in his way.....)
"NEECH BHANG RAJYOGA" is an astrology related book that is written by astrologer Pandit Ajai Bhambi. He has been involved with astrology for the last 30 years. He has done MA in Economics and is a law graduate also. He practiced as a lawyer for few years but was more keen in astrology and one fine day abandoned law and become a servant of astrology. He has made many accurate predictions on a number of occasions. Some of his known predictions are: the death of Rajiv Gandhi, fall of Benazir Bhutto and Nawaz Sharif. He had also predicted the fall of the Deve Gowda government, Gujral government , Narasimha Raos government and World Cup Cricket 2007.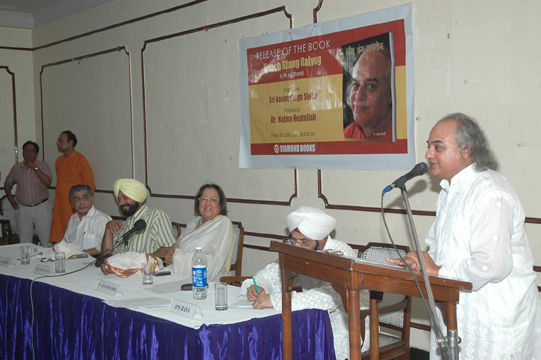 (Pandit Bhambi gives some astro direction)
There are many predictions, which come true and the phenomenon is still continuing. He have believes that if a prediction comes true there is nothing to feel proud about because this is the minimum thing that a person expects from an astrologer He has been writing in many magazines and newspapers in India as well as abroad. He has a regular column in The Hindustan Times for the last five years where he is writing on national / international personalities under the column called Star treck column in Gulf-News Dubai for the last two years. He writes for Samna (Mumbai) and Dainik Tribune (Chandigarh). Pt. Bhambi is a widely travelled person and his list of clientele spreads from the Gulf to USA. Major television channels like BBC, CNN, Star, Zee, Doordarshan etc. have interviewed him.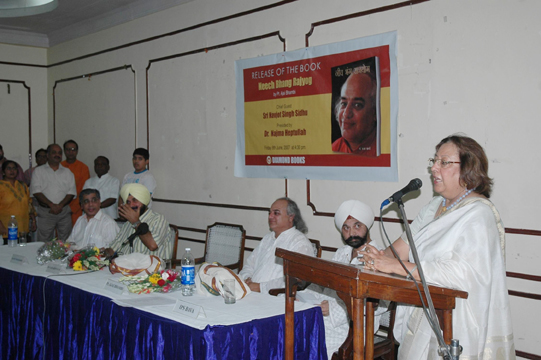 ( Politician seeks direction; Nazma's willingness)
Pt. Ajai Bhambi has been anchoring an astrological programme for Jain TV for more than four years. It is a daily half an hour programme where he interviews learned people in astrology, tarot card, numerology, face reading, vastu etc. This is a very popular programme and its rating is very high. He also anchors a programme called 'Nakshatra' on Sahara Samay channel. In this he talks to celebrities and analyses their horoscopes. Viewers also phone in with their queries. On Zee Jagran channel, he gives a discourse on various aspects of astrology.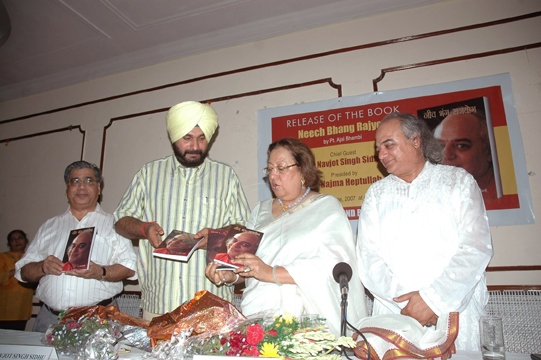 (A book for you - "NEECH BHANG RAJYOGA")
I talked with Pandit Ajai Bhambi on the various issues. He described the content of newly published book "Neech Bhang Rajyoga" covered in video.
( unforgatable moment of blessing)
I also asked about the future of ifood.tv, in his answer he was very much optimistic about future of ifood.tv and extended his willingness to support by his bright and innovative ideas as a food astrologer. Very shortly we can see his postings on this popular food channel.
for video coverage click here:
Are You Directionless? Give A Chance To Astrology!