KFC Japan Launches 'Kentucky Chicken Rice'

5 Feb 2013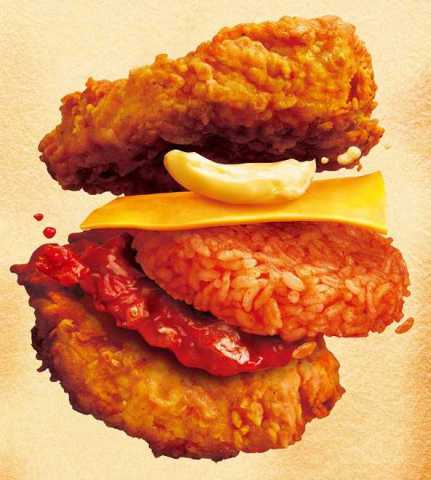 What's with the Japanese? Whatever fast food the American companies are selling back home attains gigantic proportions in the Japanese franchises. This time, it is KFC's bun-less 'Double Down', which has earned notoriety for its excess calorie content. The Japanese version of this burger is one step ahead.
While the no-bun rule stays, in addition to the two chicken patties, there is one central patty made of rice and ketchup. And thus is born the "Kentucky Chicken Rice" sandwich. While rest of the component of the Double Down remains the same, it has no bacon, which may be a put-off for serious bacon-lovers.
To be launched in Japan on February 7, this calorie-laden treat contains 585 calories per serving. It costs $4.95 (just for the burger) and $6.60 with a medium drink. In comparison, the original 'Fried Chicken' sandwich, launched last year, without the rice patty, clocks 540 calories.
Other Articles You May Like To Read:
2. Here Comes Fast Food's First Stuffed Burger From Burger King
3. How To Stop Eating Fast Food On Your Own
Image Courtesy: inventorspot
KFC Japan Launches 'Kentucky Chicken Rice'