Now Order Your Coffee In Advance, Like A Rock Star

25 Jan 2013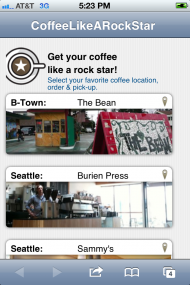 If you can't wait to pick up your favorite coffee beverage, log on to a new service called "Coffee Like A Rock Star", and order your coffee from your mobile phone. Who says that only Justin Bieber can order coffee like a rock star, now you can do it too! This website, a product of Buck, a Seattle-based company, now allows you to order your coffee, pay for it and have it waiting for you when you reach the coffee shop. Coffee drinkers need not set up any fancy hardware, just a little knowledge and a few steps is enough to set up this coffee service on your mobile phone.
Big companies like Starbucks have tried to implement this service in the past but have given up soon enough because of difficulties in customer service. So, it is an achievement for Buck to provide this kind of service for smaller cafes.
Coffee lovers can browse the website on their PC or mobile phone and look for participating coffee shops and pay for their coffee via credit card ahead of time. Then, Buck sends a text message to the shop of your choice, and charges you 35 cents extra for processing your order.
The service was launched recently for two cafes in Burien, Washington, which is the hometown of Buck's CEO Andy Kleitsch.
Other Articles You May Like To Read:
1. Top 7 Food Marketing & Psychology Websites
2. Food & Beverages - General Websites
3. Gobble This - A 24-Year-Old Stanford Graduate Builds Website To Serve The 'Hungry'
Image Courtesy: allthingsd
Now Order Your Coffee In Advance, Like A Rock Star