Half of the World's Food Goes Waste

15 Jan 2013
Recently, the UK's Institution of Mechanical Engineers (IMechE) reported that about 50% of food produced in the world never gets eaten and instead, gets thrown away as waste. If you can imagine for a moment the hungry, emaciated faces of kids in the poorest countries of the world, it might help put this in perspective.
The report says that about 1.5 to 2 billion tons of food end up as waste annually. The main cause of this wastage is the staggering increase in production of unnecessary, cosmetically perfect food products that come with strict sell-by dates and buy-one-get-one-free offers. Other reasons behind this colossal wastage of food products are poor storage facilities, poor agricultural practices and insufficient infrastructure.
The report, called "Global Food; Waste Not, Want Not", reveals that in the UK, as much as 30% of vegetable crops end up being wasted in the fields because the retailers reject these on the basis of physical appearance. About half of the food bought by people in Europe and the US is thrown away at the end of the day.
As expected, the carnivores are more of a culprit in this than the herbivores. The carnivorous diet adds more pressure on the resources as it is believed that to produce 1kg of meat, you need 20-50 times more water than what it takes to produce just a kg of vegetables.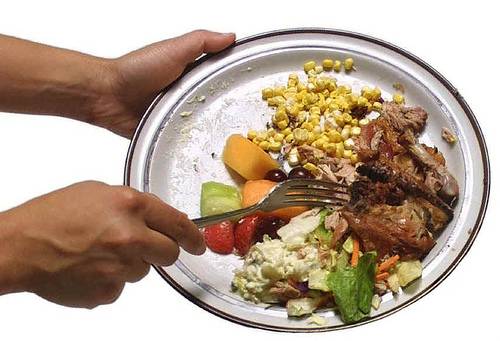 The head of energy and environment at the IMechE, Tim Fox, makes it clear that the amount of food wasted in the world is "staggering". He says that food that goes waste could be put to more useful purposes, especially with the world's growing population of hungry people.
The report suggests that in order to prevent this wastage, government organizations like the UN and other development agencies "must work together to help change people's mindsets on waste and discourage wasteful practices by farmers, food producers, supermarkets and consumers".
The United Nations has already predicted that by the end of this century about 3 billion extra people will be left to be fed. This will put extra pressure on the resources already in our control, be it land, water or energy. Therefore, the IMechE report calls for an urgent action to reduce this waste. What will you do to help?
Other Articles You May Like To Read:
1. Australians Warned Against Food Waste
2. Food Waste Lights Up Lamps In England
3. Americans Are Wasting 40% of Food Every Year
4. Six Ways To Stop Wasting Food
Image Courtesy: myessentia, hornsby
Half Of The World's Food Goes Waste