Bacon Shaving Cream Is A Reality Now!

3 Dec 2012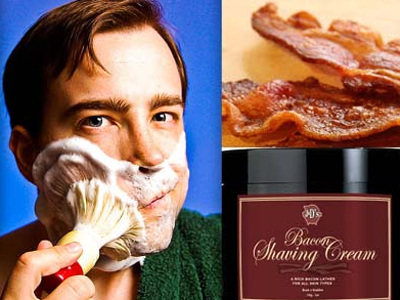 The business world seems to be under the impression that people cannot have enough of bacon. That is why it is stuffing weird bacon products up the supermarket aisle. The latest to join the bandwagon is the bacon shaving cream. While the bacon lovers may already be rejoicing the news, there are certain people who are saying 'yuck' to that.
J&D's Foods is the company that has launched the 'Baconlube', which is the bacon-infused shaving cream. It gives out the bacon smell, when you shave with it. While the cream also has "rich creamy moisturizers and hearty essential oils", it is the bacon smell that is the highlight of this new crackpot product. The bacon shaving cream comes at $14.99 a jar and would make for a reasonable gift for your husband.
J&D's Foods' co-founder Dave Lefkow released a press not saying the "Bacon Shaving Cream is a high-end, luxurious bacon-scented shaving cream from all skin types." That is not all, the bacon smell would linger on your face for a long time after the shave.
Other Articles You May Like To Read:
1. Ridiculous Bacon Products In The Market
2. McDonald's Bacon Love Affair On Twitter
3. Burger King's Summer Delight - Bacon Sundae
Image Courtesy: anorak
Bacon Shaving Cream Is A Reality Now!