Shanghai's 'Chocolate Happy Land' To Open On Dec 18

27 Nov 2012
At the year-end, Shanghai will host a chocolate-y festival, which could look like just out of the movie, 'Charlie and the Chocolate Factory.' The famous Expo Garden of the Chinese city would become a mouth-watering treat for the chocolate-lovers. Therefore, is it any surprise that the organizers have named it the "Chocolate Happy Land."
The chocolate festival would cover 30,000 square meters of area and while there will be a total of eight pavilions, showcasing other things, the highlight of the event is going to be the chocolate paradise, aptly named 'Chocolate Kingdom." There is no doubt that the majority of the 10,000 visitors allowed to come to the park at a time would head to the chocolate wonderland.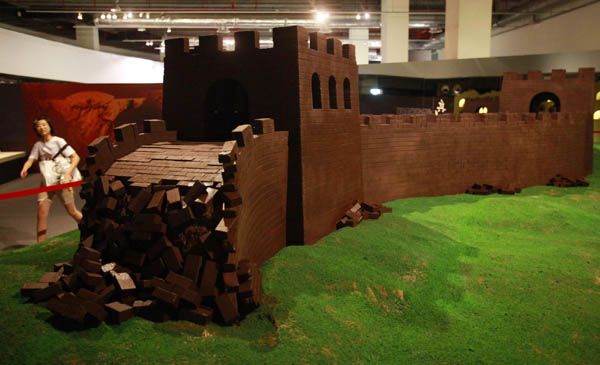 The main feature of this Kingdom is a chocolate castle, which shall be 10 meters high and spread over an area of 400 square meters. More than 300 tons of chocolate will be poured into making this structure and famous sculptures like The Thinker would be built outside the castle. Apart from the castle, there will be cameos on the walls of this pavilion, depicting scenic beauty of the Summer Palace and the Forbidden City. The pavilion would be decorated with chocolate (of course!), candies in all imaginable colors, and biscuits.
A shopping street has also been planned at the park, which shall be filled with all kinds of chocolate products, cakes, wasabi chocolates, cupcakes, and macaroons, so that the visitors can take home some sweet souvenirs. Besides, there shall be tasting counters throughout the pavilion for visitors to taste different chocolates.
The main aim behind the organization of this chocolate-y pavilion is that the organizers want to apply for the Guinness World Records in 2013. The chocolate paradise is a preparation for that! So, if you happen to be in Shanghai around December 18, 2012, just drop in for a chocolate-y treat!
Other Articles You May Like To Read:
1. Shanghai's World Chocolate Wonderland Showcases Chocolate Art
2. Chocolate Room For Valentine's Day
3. The Great Wall Of Chocolate
4. How To Celebrate National Chocolate Day
Image Courtesy: randommization
Shanghai's 'Chocolate Happy Land' To Open On Dec 18