From Gingerbread Shake To Turkey Ice Cream Cake, Surprising Thanksgiving Flavors
Holiday season is here and although, Thanksgiving turkey is going to be the predominant flavor till at least this weekend, there are some really weird flavors awaiting you for the rest of the holiday season. Here is a low down on these out-of-box flavors, which will surely taste out of this world to most of you.
Gingerbread Shake – Red Robin's holiday menu has this shake in the list and the chief marketing officer of the chain says that this shake is bound to evoke 'powerfully positive emotions.' Well, that is for the customers to decide!
Holiday-Flavored Chips – By holiday flavors, we mean cinnamon & sugar, pumpkin pie spice, and white chocolate peppermint. All these flavors are available in the Pringles chips range.
Turkey Cake – No, it is nothing like the extreme turkey flavored cake but the Baskin-Robbins is going to sell an ice cream cake centerpiece that looks like a turkey ready to be carved. There is also an ice cream turkey 'leg piece' on offer.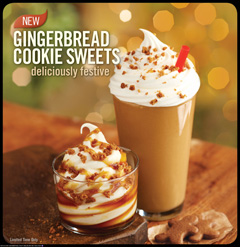 Gingerbread Cookie Sundae – Everybody loves a bite of sundae and if it is in gingerbread cookie flavor, then, it feels like the holiday season is right here, or so thinks the Burger King, which is offering this on its menu.
Sodas – Jones Soda has rolled out Gingerbread, Pear Tree, Sugar Plum, and Candy Cane colas this year, after its Turkey & Gravy holiday cola fizzed out in 1994. The company is hoping that this holiday season, people would still want to try these disgusting flavors.
ChapStick – This has got to be the weirdest flavor of this season. Pfizer has launched, among other flavors, Candy Cane, Apple Cider, and Chocolate Truffle for its lip balm brand.
We told you, it was going to get weird this holiday! Just wait till the Thanksgiving is over!
Other Articles You May Like To Read:
2. Weird Food Gifts For Your Valentine
4. Little Baby's Pizza-Flavored Ice Cream Is A First
Image Courtesy: usatoday, grubgrade, brandeating, bk, examiner, savvy-spending
From Gingerbread Shake To Turkey Ice Cream Cake, Surprising Thanksgiving Flavors