Burger King Japan Launches All-You-Can-Eat Burger Buffet

15 Nov 2012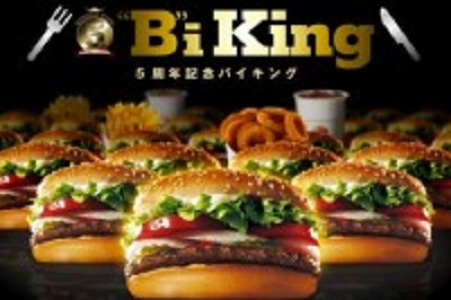 The Japanese franchises of Burger King are continuously setting up new standards in experimentation. The latest one has another trick lined up for its fifth anniversary in the country - an All-You-Can-Eat burger buffet, which is simply a gorge-fest.
As if having a pumpkin burger, black bun burgers, and five-patty Whoppers on its menu was not enough, the store now offers customers half an hour to eat as many hamburgers, French fries and onion rings as they can. The time limit may be short but you know there are people who can eat a whole pig in that duration so it is brave on part of the restaurant to make this kind of an offer.
The offer is on from November 17 to 21 on Black Burgers and on Whoppers from November 22 to 30.
Other Articles You May Like To Read:
1. Burger King's Black Burger Dawns On Japan
2. Japan's Sumo Burger Being Sold At Lotteria
3. For Burger King, Pumpkin Is The New Bacon
4. Burger King Drive-Thru Service Slowest In The US
Image Courtesy: japandailypress
Burger King Japan Launches All-You-Can-Eat Burger Buffet