Pizza Hut Launches 'Overstuffed' Pizza For The Gluttons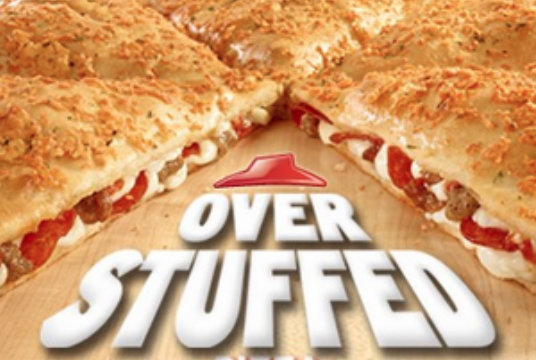 You have had the stuffed-crust pizza at the Pizza Hut, the hot-dog-stuffed as well as the Cone Crust pizzas but are you ready for the 'Overstuffed Pizza"? The latest pizza variety to come out of the Pizza Hut kitchen is an entire pie made with one big stuffed crust. Howzzat for sumptuous pizza experience!
The Overstuffed pizza is a regular one, with an extra layer of crust on top. While some may think of it like a calzone, a Hot Pocket, or a two pizza held together. Whatever you say, this one is a monstrosity. And it comes with two sets of fillings. One is the "Supremo", where you can have Italian sausage, bell peppers, onions, and mushrooms and the second is "Italian Meat Trio", which has a combination of two kinds of sausages and pepperoni. In both pizzas, the crust is sprinkled with parmesan cheese and extra spices.
The Overstuffed Pizza comes at $12.99 per piece and it would be available at Pizza Hut locations all over the country.
Other Articles You May Like To Read:
1. October - National Pizza Month Celebrates America's Obsession With Pizza
2. Subway Sandwich Or A Pepperoni Pizza From Pizza Hut?
3. Free Pizzas For Saying "Por Favor"
4. Hell Pizza's 'Roulette' Game Is Deadly
Image Courtesy: zagat
Pizza Hut Launches 'Overstuffed' Pizza For The Gluttons