Baskin Robbins' New Fall Flavors Are Both Good & Boring

16 Oct 2012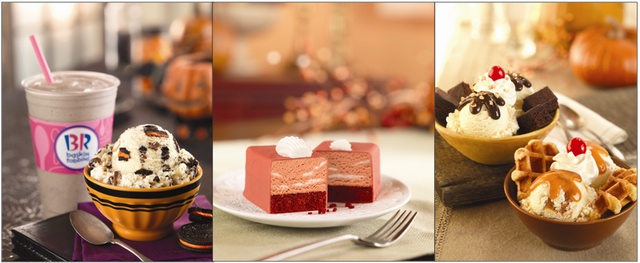 It is October, a.k.a Halloween month, so Baskin-Robbins has decided to take on the color orange with its new fall flavors. The new Halloween treats unveiled by the ice cream chain include two special ice cream flavors for the autumn season and a few cold treats like cakes and sundaes.
While you prepare for a cozy Halloween night, what better way to enjoy a festive fall treat with Baskin Robbins' specialty ice cream?! This includes the October Flavor of the Month "Trick OREO Treat" as well as their pumpkin pie flavored ice cream. The "Trick OREO Treat" ice cream flavor has a vanilla ice cream base, with generous swirls of orange, cream-filled Oreos (a festive Halloween twist on the classic Oreo cookies and Cream flavor!)
In addition to these featured fall flavors, Baskin Robbins also unmasks a "Red Velvet Ice Cream Cake Bite" – which is a mouthful of a dessert, not just in its name. The company calls it an "elegant frozen treat" that is paired with ribbons of cream cheese frosting.
There are also two warm sundaes on the anvil, which are "Warm Belgian Waffle Sundae" and "Warm Brownie Sundae." The sundaes weigh heavily at 740 and 820 calories per serving, respectively, so if you go for either one of these, chances are you may have skip the rest of the Halloween feast when you and your kids go trick-or-treating!
Other Articles You May Like To Read:
1. Baskin Robbins All Set To Shelve Iconic Flavors
2. Baskin Robbins Ice Cream Nachos Are Here
4. Ice Cream Cones That Make You Scream
Image Courtesy: gothamist
Baskin Robbins' New Fall Flavors Are Both Good & Boring