Sliced Finger Wins Ratings For The Great British Bake Off

20 Sep 2012
BBC2's cookery show 'The Great British Bake Off' involved high drama with a blood soaked hand turning out to be the ultimate focus. The 'showstopper round' involved making a delicious strudel but the pastry got bypassed by the sliced off finger belonging to John Whaite, one of its star contestants.
The producers of the show, however, chose to show the blood filled hand encased in a blue glove. It was mayhem after that with fans of the show voicing their indignation and anger on various social media sites. "I greatly dislike the sight of blood. Great British Bake Off was rank. Blood glove. Eew." Went one such tweet while another termed it as a 'bloodbath'.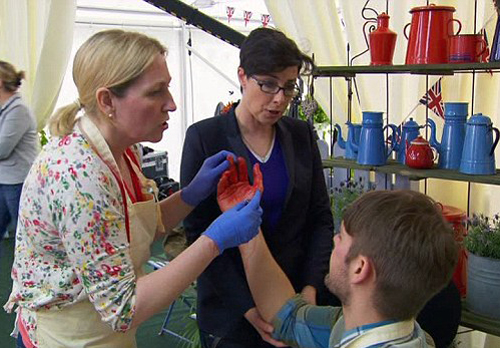 While Whaith was spared from being eliminated, courtesy his little accident, the unconventional episode helped the 'Bake Off' overtake Tuesday's Football game in TV ratings.
Well, it just goes to show that blood and gore remains as fascinating as ever!
Image Credit- BBC
Sliced Finger Wins Ratings For The Great British Bake Off