Veg McDonald's Draws Flak From Hindu Group

6 Sep 2012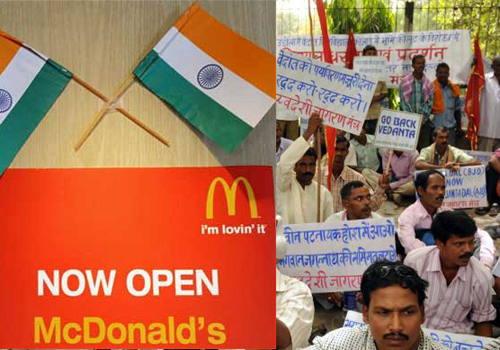 McDonald's has not quite managed to appease the religious Hindus of India it seems. The fast food giant had decided to open vegetarian outlets near the Hindu scared shrine of Vaishno Devi and Amritsar, the Holy city of Sikhs last week. But the move seems to have backfired now as Hindu nationalist party, "Swadeshi Jagran Manch", a branch of the RSS has announced that McDonald's is attempting to humiliate the Hindus by playing with its religious sentiments.
McVeg Items In India
The fast food outlets are already doing brisk business in the metropolitan cities of India and have grown immensely popular by catering to the local tastes in the recent years. The spicy potato cakes sold as Aloo McTikki burgers make up for almost a quarter of its profits in India while the McSpicy Paneer, containing fresh cottage cheese has also captured the imagination of Indians across the country.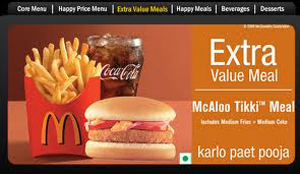 The Target Customers
McDonald is actually hoping to capture the religious lot of pilgrims who come down from the shrine of Vaishno Devi after making an arduous climb of 10 miles. Spicy fast food and burgers greeting them would be a welcome relief felt the management in India accounting for a brisk sale in the area.
The Opposition
However, the enormous potential that McDonald's sees in feeding the hungry pilgrims with carb loaded fast food has run into hot water now. The "Swadeshi Jagran Manch" has now proclaimed that it will oppose the fast food company tooth and nail. The conveyor of the nationalist group stated, "It's an attempt not only to make money but also to deliberately humiliate Hindus. It is an organization associated with cow slaughter. If we make an announcement that they're slaughtering cows, people won't eat there. We are definitely going to fight it."
The mood has turned ugly at the moment but one never knows how McDonald's is going to tackle it. You might soon find religious folks traversing the stiff terrain carrying spicy McFries despite the dire warning from fundamentalist groups. Such is the lure of fast food especially McDonald's!
Image Credit-Daily Telegraph; The Hindu
Veg McDonald's Draws Flak From Hindu Group