Burger King Goes 'Chicken' For This Fall

3 Sep 2012
If ever there was a poll, chicken would, no doubt, top the list of top 10 popular fast foods. It is, perhaps, the most loved ingredient for fast food-lovers, not only for its protein content (yeah, sure, especially when fried!) but also for the varieties in which it can be prepared and served. Well, chicken is the theme for Burger King's Fall menu and the restaurant chain will be celebrating the season with quite a handful of menu innovations. The new additions to the BK menu, 9 in all, are flavorful and go from rich to light fare. If that has got your mouth watered, read on to know more:
Something for Everyone
Flavia Faugeres, executive vice president as well as global chief marketing officer for Burger King Worldwide, speaks proudly of the new menu, "Our new menu offerings are fresh for fall, harvesting the best-tasting, premium ingredients that our guests have come to expect at Burger King restaurants. Not very long ago, the restaurant chain had introduced a new breakfast menu for its customers. With something for everyone, the fall menu gives guests even more delicious reasons why TASTE is KING at Burger King."
The New Menu Has...
The new BK Menu would be available to the customers for a limited time only but the restaurant chain promises to keep it fresh, flavorful and enjoyable for its customers. Here is a look at some of the new stars of the BK Menu:
a. Italian Basil Chicken Sandwich - This is a Chicken Sandwich, made in Italian style and served on toasted wheat bun.
b. Italian Basil Chicken Wrap - The wrap is a flour tortilla and the filling is the same as the sandwich.
c. Chicken Parmesan Sandwich - Need we describe this one!
d. Garden Fresh Salad Wraps - For those who are excessively health conscious, these are salads wrapped inside whole wheat tortilla. You can choose between the traditional BLT, Apple & Cranberry or classic Caesar varieties, all tossed up with chicken breast.
e. Popcorn Chicken -  Nothing new about this one. You must have already seen it at a dozen other fast food chains. But wait till you arrive at a conclusion.
f. Raspberry Real Fruit Smoothie - The smoothie revolution is taking America by storm so it is no surprise that the Burger King restaurant wants to join in the smoothie party as well!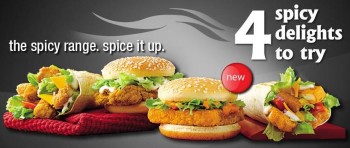 McDonald's Wants A Share Too
However, before you think only Burger King is trying to reinvent itself with help from the clucking chicken, here is some more news. McDonald's, one of the top 10 restaurant chains, has also started focusing on chicken recently. In fact, the chain has already started testing its chicken wings and some more items are on the menu. The change comes at a time when Don Thompson, the new young CEO, has taken over charge. For McDonald's, chicken is the new beef. Thompson said, "The consumer is expressing some recent signs of distress and chicken costs are cheap relative to beef right now by a lot."
We know that by now you must be really hungry for a bite of Burger King's chicken sandwich or wrap. So, head to the nearest outlet and immerse yourself in the new flavors of the fall menu.
Image Courtesy: burgerbusiness, junkfoodnews
Burger King Goes 'Chicken' For This Fall