Bacon Wins At Seattle's Best Showdown

3 Sep 2012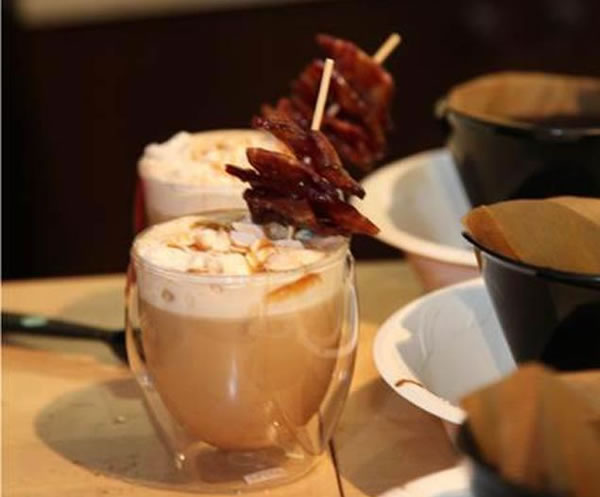 If you hear imagination and bacon in the same sentence, it is time to roll your eyes! Seriously, bacon has such an all-pervading presence in the American lifestyle that nothing can surprise you anymore. But still, Iowa resident Eileen Gannon managed to do just that with her bacon coffee at the Seattle's "Best Red Cup" Showdown contest recently. She prepared a genius combination of pumpkin pie and bacon flavors, blended into a coffee drink and won the contest in New York. In fact, her drink was also named the most "imaginative drink in America." In case you are already tempted to make it at home, read the story behind it first.
Bacon In Coffee
Bacon is the first thing to start your day with and when it comes packed into your favorite drink of the day, there is no doubt about how popular it can get – notwithstanding the fact that there are doubts about the health benefits of having bacon for breakfast. That is, perhaps, what was on the back of the mind of Gannon as well as she defeated five competitors to win the contest held last week in New York. She titled her drink as "How to Win a Guy With One Sip" and it won her a jackpot worth $10,000 as well as the satisfaction that her creation will now be sold at the Seattle's Best Coffee shops across North America. That is no mean achievement considering the fact that it is Starbucks that owns the 'Seattle's Best' brand. However, it is not the first time that this petite financial adviser has made a mark on the food contest circuit. She has been a proud winner of many a blue ribbons at state fair contests.
Those Who Didn't Win
Well, they could get nothing except the consolation of having participated. The runners-up for this contest included a drink called "Café Mocha en Fuego". This drink was made with a raspberry-flavored chocolate coffee, chili powder, cayenne, and cinnamon. Well, doesn't sound much appetizing like that considering the fact that Gannon's drink was made with bacon-flavored syrup and it was garnished with oven-baked bacon candy.
Other Bacon Products
Before declaring Gannon as the winner, the Seattle's Best Red Cup Showdown held contests at state fairs in Iowa, Illinois, California, Ohio, and Wisconsin. The company describes the winning drink in its press release as, "Level 5 Seattle's Best Coffee with the unexpected flavors of caramelized bacon and subtle hints of pumpkin pie spice." Well, the company has all the right to gloat about the drink because for years, bacon has caught the imagination of manufacturers, restaurateurs, and leisurely cooks alike. How else can you explain such ridiculous products like bacon bra or bacon maple ale. Thankfully, both these products did not receive much response in the market.
Forget about 'pigs in the blanket', bacon is now touching new heights with the Burger King's Bacon Sundae and other such ice cream flavors. For now, wait for Gannon's Bacon Coffee to hit you at a Seattle's Best store near you!
Image Courtesy: neatorama
Bacon Wins At Seattle's Best Showdown