Prez Prediction Results:BBQ Loving Romney Edges Out Burger Loving Obama

24 Aug 2012
The Presidential campaign  is heating up allthough the D-Day appears to be a few months away. Predictions about Mitt Romney ousting Barack Obama from the White House have started circulating even as the garnering of votes and extracting promises continue  in earnest with both Obama and Romney running around the country trying to impress the most important person of America this year-the common man!
Barbecue Swings Vote?
The media would have us believe that the State by State analysis returned Romney's name as the winner. But what is it that clinched it for the yet wannabe Prez? It is apparently the Barbecue which swung the vote away from the present Prez. And why is it so? Because the barbecue represents the common American, it is a genuine symbol of the hard working man who would like to relax by barbecuing spare ribs on a wood fire in his backyard. Gone are the days of such simplicity with the barbecues themselves being cooked over electricity or gas grills yet the vision remains much like the smoke wisps alighting from the barbecue that never fails to remind the Americans of their roots.
BBQ Attendance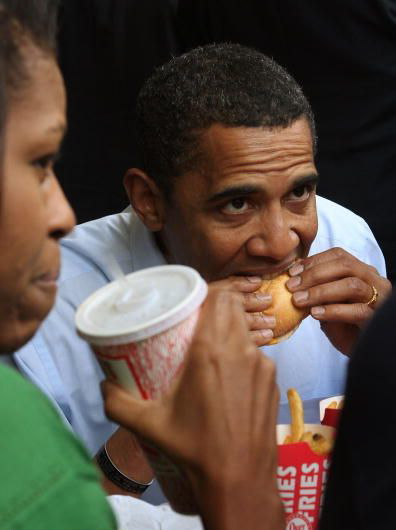 Although neither of the candidates are from the South, they have been attending BBQ dinners  and get togethers regularly and allowing the sauce to stain their hands while the grease ran out of the meat on taking a good bite. Romney has been far ahead of Obama as far the BBQs are concerned. It is only recently that the Prez has been seen at barbecues enjoying the meat with his tie askew, quite determined to prove that he is indeed a simple, earthy man at heart.
However, it is Romney who has made more rounds this year. He also makes it a point to opt for the specialty of the region, a move that has endeared him to masses in South Carolina when he ordered a pulled pork sandwich . He has also tweeted a photograph of himself with his shirt sleeves tainted with barbecue sauce . A clever move that! Obama, on the other hand, is more of a Burger man  and has to make an effort pretending to enjoy BBQ food and it shows!
While the "Electoral College Computer Model" which has never gone wrong since 1980, predicts the winner as Mitt Romney, we cannot help wondering whether Obama is going to lose his grip on the nation because of his policies or because of the Barbecues!
Image Credit- sodahead 
Stamfordadvocate; russfye
Prez Prediction Results:BBQ Loving Romney Edges Out Burger Loving Obama