PayPal Gets Pally With French McDonald's
22 Aug 2012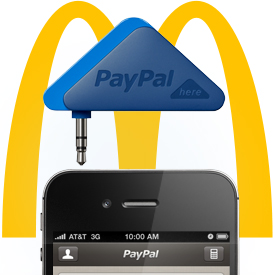 PayPal customers are in for some special treatment at the 30 McDonald's outlets in France, thanks to a test run being conducted of a new checkout system based on a new app. The spotlight is on the phone-based payment application of PayPal, in association with McDonald's, which would allow the customers to make online payments and then collect their order from a separate line. All this, while the lesser mortals (read non-PayPal customers) slug it out in long lines at McDonald's counters throughout France and rest of the world.
Such an Injustice!
The first feeling that you may encounter on hearing about the PayPal test run is jealousy, especially if you are a frequent visitor to a McDonald's outlet near you. You know about the rush hour, the long lines, long wait to order and then another wait to collect your order. However, after the initial rush of jealousy is over, you realize, this is just a test-run and if it becomes successful, it might get installed in the US. In fact, the test-run is being done aimed at the US market only. Why the organizers have chosen France as their base could only be because McDonald's is as popular there as it is back home.
The French Trial
To make it clear at the onset, McDonald's has tested PayPal system at one of its US locations in Florida earlier but the French test run is, probably, the first, large-scale attempt to integrate online payments into the fast food chain's operational details. The trial allows the customers to make payments via smartphone app or a website from their desktop computers. They can, then, go out and collect their order right away from a separate line at the restaurant. Here is a video of how the PayPal-McDonald's system would work:
Third Time Lucky?
For those who still don't know about it, PayPal already has two in-store payment systems for smartphones – one is a point-of-sale system at cash register and a credit-card swipe system. In case the French trial system gets launched in the US and elsewhere, this will be PayPal's third strike against rival companies, including the fast growing Square payment system. In fact, it was the competition that forced PayPal to cozy up to McDonald's and seek this trial, especially since Square has already netted a contract with Starbucks only recently. PayPal's 'pay-with-an-app' payment system is being tested to counter the "pay-with-Square-system" in the US. As for McDonald's, it has already got hacked once, so it may do well for the fast food chain to be cautious this time.
Pay Smartly For Your Burger
PayPal and Square are not the only companies trying to grab a share of the pie that is called payment interface between various goods companies and their customers. Google Wallet and Isis are in the fray too. Although the merchants are not too happy about this arrangement, as of now - who could blame them since including any of these payment gateways would mean sharing the revenue with them. The changing profile of customers in the modern times has forced the merchants to go with the flow. Businesses like 7-Eleven, Wal-mart, Best Buy, and Target have also jumped onto the bandwagon with the Merchant Customer Exchange, launched recently too.
Although, there has been no official confirmation yet, a source says that the McDonald's could launch the PayPal system within the next two years. If this trial is a success, McDonald's will get more customers ordering and making payments from within the confines of their homes or offices and PayPal will get a cut in the transactions around thousands of McDonald's outlets in America. However, whether the PayPal facility for McDonald's will force people to eat more junk food is still not clear but the two companies are, nevertheless, having a go at it.
Image Courtesy: pcmag, techfever 
PayPal Gets Pally With French McDonald's