Jason Quinn's Burger Challenges Foie Gras Ban
9 Aug 2012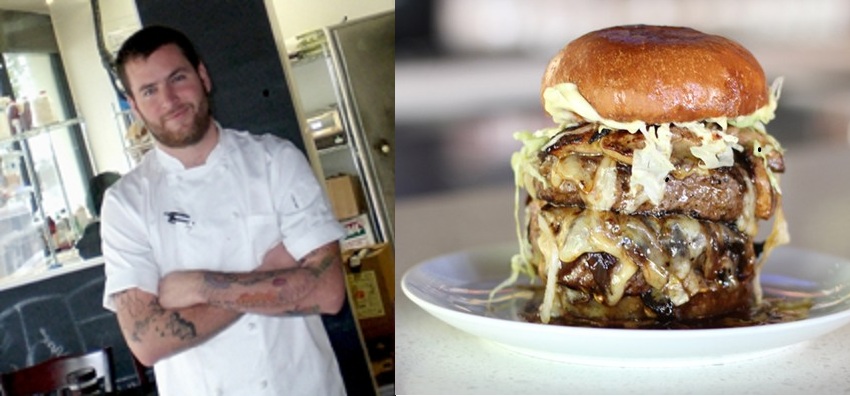 The California foie gras ban is in serious trouble. After about a 100 Californian chefs, restaurant owners, and producers signed a petition to get the ban revoked, "The Playground" Chef Jason Quinn has taken the battle a notch higher. He has announced an event, a burger-eating challenge, where he will be assembling a foie gras burger for each one of his guests.
What foie gras ban?
On August 11, 2012, Quinn has promised that foie gras will make a grand appearance at his restaurant in Santa Ana. He has invited 10 'brave' guests to come over and take part in "The Shut The Duck Up Burger" challenge. The challenge burger is a double-up version of the Playground's burger, made with Wagyu chuck and dry-age ribeye torchon patty. This burger also contains Tomme de Savoie and maple-bourbon onions. However, the piece de resistance in this burger is that it is topped off with "a shit-ton of foie." No wonder that the burger is presently off-menu at The Playground. Anything with six ounces of fatty liver delicacy would have to be off-menu, considering the ban is in place.
'Good Luck, Fuckers!"
Quinn is apparently pissed off with the foie gras ban imposed by the federal authorities in California. As per the ban, selling foie gras is illegal. That is what has instigated Quinn to join hands with Foodbeast and Orisue Clothing to host this burger-eating challenge. The ten guests at the event will have to finish the burger as well as a huge portion of fries and a beer to be served with it.
The Video
Quinn has even launched a video on YouTube, showing him assembling this monstrous burger at his restaurant. After assembling this mouthwatering treat, Quinn even manages to speak out to the ban supporters "Good luck, fuckers!" even as the video shows a close-up of the burger, all ready to be eaten. The even to be hosted by Quinn is called "Gluttons and Glory" and if you want to witness it, it will be held at the Playground, starting 9.30 p.m.
Make sure you do not miss out on this foie gras overdose. The new French President Francois Hollande would be really happy to learn about this challenge because it was only last week that he had expressed his unhappiness at the California ban. Do you think it is right that the ban is being opposed at so many levels?

 
Image Courtesy: philgorgeous, basementfridge, melissas
Jason Quinn's Burger Challenges Foie Gras Ban