World's Largest Cupcake Mosaic In Singapore
1 Aug 2012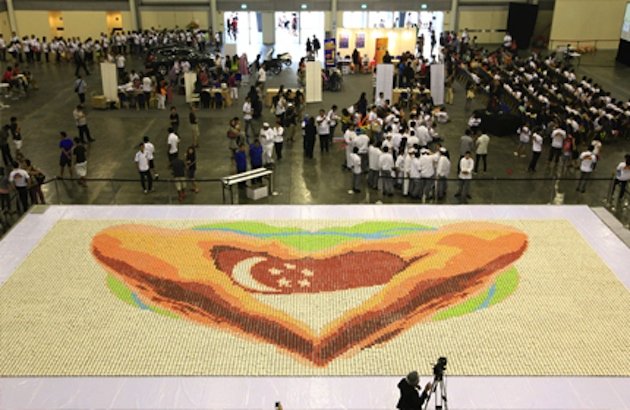 That's what you would call a birthday celebration. Singapore's 47th National Day was celebrated with the world's largest cupcake mosaic, made with 20,000 cupcakes in all. The previous record for the largest cupcake mosaic in the world was set in the US in 2009, but the scale was much less – just 5,900 cupcakes.
Singaporean Effort
It was the volunteers of the Ayer Rajah Constituency, who undertook this record-breaking feat to celebrate their city-state's birthday. Some 20,000 cupcakes were used to create a mosaic depicting Singapore's national flag, complete with a pair of hands in the shape of heart around the city-state's flag. The effort was called CommuniBake 2012.
The CommuniBake Project
The project was made to allow the Singaporean youths to "bake, care, and share" with each other while realizing the fact that a good cause can be supported only with every single small effort.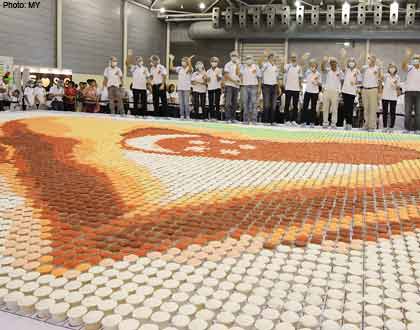 Social Cause
After the mosaic was complete and photographs were clicked, the cupcakes were auctioned for $4 apiece, thus raising $80,388 in donations. The money would be used to support underprivileged children, disabled, and elderly from various welfare homes. However, what is sweet to know is that the donors, who bought the cupcakes, distributed them across 62 locations in Singapore, where the underprivileged children and elderly enjoyed these treats. With that, they were also able to join the rest of the city-state's people in celebrating Singapore's National Day.
The Details
The record-breaking attempt was undertaken by 1,200 youth volunteers at the Singapore Expo. A total of 16 ovens were employed and the 20,000 cupcakes took 1,320 pounds of cupcake mix, 660 pounds of vegetable oil, 770 pounds of eggs, 1,543 pounds of fondant, and 18 hours to bake. The mosaic was 52x26 feet. Foo Mee Har, Grassroots Adviser for the constituency and MP for West Coast GRC, said about the record-breaking feat, "I hope their efforts and experiences serve to inspire more youths to dare to think 'big', get involved in giving back to the community, and make a difference in the lives of others."
When Japan was hit by a disastrous earthquake and tsunami last year, cupcakes were used to offer relief to the ravaged country. It seems that with the Singaporean feat, cupcakes have, once again, served their purpose, which is to bring joy to people.
Image Courtesy: soshiok, funnyandodd
World's Largest Cupcake Mosaic In Singapore