HUMAN Machine To Fight American Obesity
31 Jul 2012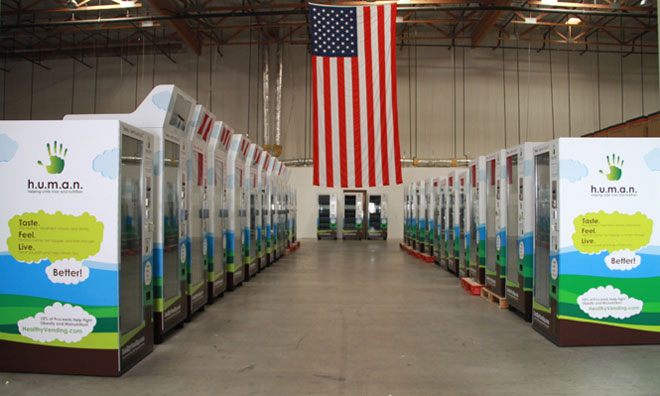 There is an American company, which is doing all it can to help America fight its war against obesity, which is costing the country $190 billion a year in excessive medical cost. Convenience snack food lies at the bottom of this obesity epidemic and the company, called H.U.M.A.N. Healthy Vending, intends to change that by offering a vending machine that distributes healthier options. This may sound like another vending machine but for more than a third of Americans, who are obese, this could be a life-saving change. For starters, the acronym H.U.M.A.N. means "helping unite man and nutrition."
The HUMAN Machine
H.U.M.A.N. Healthy Vending company has already found a place among "America's Most Promising Companies" for the year 2011. The vending machine in question will provide the customers with choices including low-sugar, organic, and gluten-free products. The company plans to put up 1,500 machines across 40 American states to begin with. The company will ask local operators to run these machines but these vending machines are not the end of the road for the company. With the money made by selling these machines, the company intends to diversify into health foods as well as vending machines selling organic fair-trade coffee. Among other plans, the company also wants to publish a book on the right way of snacking. All these steps are the company's way to help America lose weight.
The Idea
It was CEO Sean Kelly and co-founder Andrew Mackensen, who embarked upon the idea of the Healthy Vending machine four years ago, although the idea had started taking shape way back in 2003 when Kelly went in search of water after a gym session. Kelly was a student of Biomedical Engineering at Columbia University when, after gym, he saw a woman buying sod to drink in between workout. Says Kelly, "She took a swig, put it in the cup holder on the treadmill and started running. I thought, if this is the case for us in an upper-income demographic what's it like for people in other places?" Thus began an academic research project-cum-business plan, as Kelly recalls, "Pretty soon I had vending machines running in three different states. I was managing a network of interns filling my machines, and I realized it was not scalable."
The Shift
Soon, the business shifted to healthy items that could be dispensed through vending machines in a single-serve packing. Just as Kelly was beginning to enjoy the success of his business, large distributors came in to claim their share of flesh. This motivated Kelly to go back to the original plan of bringing a change in the vending experience of Americans.
The Social Commitment
The company does not leave the matter at the sale of the vending machines but goes beyond that. After selling the machines, the company stays in touch with the local operators, giving them advice on which products to stock and inspiring them to source local products as far as possible. The company looks for minimizing artificial additives and maximizing those products, which contain protein, complex carbohydrates, fiber, and vitamins. Kelly says, "If we create socially-committed entrepreneurs they're not only going to have fantastic business but our entire brand will benefit because the level of service they can provide is infinitely higher." The company is also creating smaller vending machines that will help in increasing their presence across the country but there is a larger cause behind this as well. The company has pledged that besides contributing 10% of all profits to fighting childhood obesity, it would also buy a nutritional pack per child for each proprietary snack that the machine sells.
We know this story is too inspiring for you to read. In case you want to follow in Kelly's footsteps, he has some advice for you, "Do not be scared to surround yourself with people smarter and more experienced than you. You need people not to push you, but to pull you. Get the mentors, get the leaders, and do not be afraid to copy success. A lot more people will help than you realize." Such advice is indeed valuable and it comes from a company that wants you to live a healthy life.
HUMAN Machine To Fight American Obesity