Ice Cream Wins Over Taliban In Afghanistan
30 Jul 2012
War-torn Afghanistan is witnessing a revolution of a different kind these days - one offset by a thing as humble as ice cream. The origin of this silent revolution is the Herat Ice-Cream Factory, which is run by Ahmad Faizy, who is, perhaps, the only man allowed to travel even through the most restive parts of the beleaguered country. His ice cream trucks traverse the length and breadth of Afghanistan, including the Taliban-dominated areas because his ice creams are welcome everywhere.
No Security Threat
When Faizy's ice cream trucks drive out of his Herat-based factory out into the 34 provinces in Afghanistan, his agents face minimal problems be it the roadblocks put up by security agencies or Taliban ranks. In a country, divided by ethnic sects, terror faultlines, and general suspicion, this is no mean feat. All because the trucks contain boxes and boxes filled with sweet, cold treats, in a variety of flavors. Faizy describes the gamut of events in simple words, "Security is not a concern when selling ice-cream." He says so while being surrounded by ice creams in chocolate, strawberry, and orange flavors, which the Afghani men, women, and children have come to love.
The 8-yr-old Dream
Faizy set up the factory in 2004 with a capital of $50,000, which he had earned while doing other businesses with countries like China and France. He went to Pakistan next-door, to purchase machines and bring back technicians to operate these machines. The company is worth $15 million today and about 200 people work in it. The fact that his home town, Herat, already had a reputation for churning out the best ice cream in the country, also propelled him on the road to build this factory. His target market - two-thirds of Afghan population, which is 25 years old and less.
The Ice Cream Story
The factory churns out 37 flavors of ice cream and 30 tons of it daily. These treats are, then, carried in trucks to various distribution centers across Afghanistan. Faizy says, "We have our own trucks with cooling systems and generators. There are security problems along the way, but so far we haven't run into anything." What about the fiercely dangerous Talibanis? Faizy replies, "Even the Taliban like ice-crema. We have agents in every province. Out of the 37 ice cream flavors, the Afghanis love the chocolate and almond coated vanilla ice cream the best. Other popular flavors are mango and pineapple ice-lolly and sour cherry and pistachio.
The Roadblocks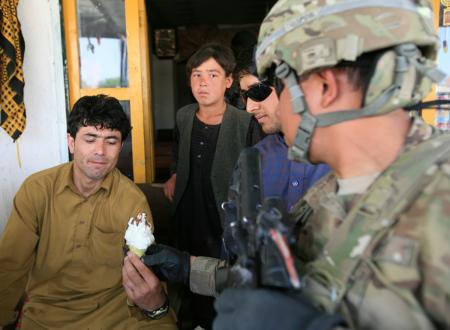 While the Afghanis may be in love with Faizy's ice creams, even the Talibanis, but that doesn't mean that he is having an easy run at his business venture. Remember, he is operating in a country that was ranked in the bottom 20% of the "Doing Business" index of the World Bank. Besides, Afghanistan is also the fourth most corrupt country in the world. One of the vagaries for Faizy is the cross-border trade. He complains, "The customs police at the border don't tax fairly, there may be 1000 ice-creams but they will only tax 200 of them. Or they smuggle them into the country." Besides, the Iranian ice cream companies are also stealing a march on this entrepreneur, as he explains, "The problem is if we are selling ice-cream for 10 Afghanis (about 20¢), an Iranian company will sell for 9 Afghanis just to discourage us and get market share, even if they are making no profit."
Afghanistan's story is somewhat similar to what is happening in Libya these days. Despite the hardships, Faizy has no plans to back out. He has the support of the US government, which wants to build similar enterprises in Afghanistan, to propel the country on the path to peace. Well, for the years to come, ice cream will not be in dearth in Afghanistan, thanks to people like Faizy.
Ice Cream Wins Over Taliban In Afghanistan