Mesamérica Creates A Mexican Wave Of Ideas
30 Jul 2012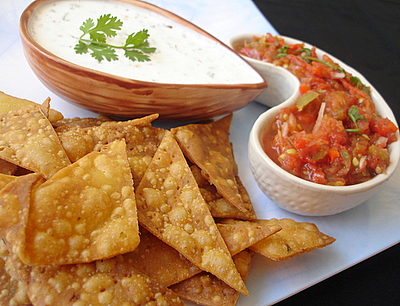 From being just a snack, tacos have become an all-American tradition in themselves and so has the Mexican cuisine, to which they belong. Celebrating the giant presence of the Mexican food on American dining tables, chef Enrique Olvera organized the first annual Mesamérica, a summit on Mexican cuisine. The summit is three-and-a-half-days long and it started on July 26, 2012.
Day First
Gathered in the Blackberry Auditorium in the Mexico City, chefs, folks from the culinary industry, and, of course, journalists, got together along with students of various culinary courses, to discuss the future of Mexican cuisine in America. The focus was on local Mexican cuisine and the new touches to it in the form of some innovative pyrotechnic plating. Food photographer Daniel Patterson previewed his Phaidon cookbook, which will be released in 2013. The book shows photographs clicked by Patterson. During the book review, Patterson was quite witty with his comments, especially for traveling chefs. Chilean chef Rodolfo Guzman of Santiago's Boragó showcased some video memories of his restaurant. Chefs Javier Plascencia of Mission 19 in Tijuana and Jair Téllez of Laja in Ensenada and Meretoro in Mexico City shared their efforts to establish Mexican cuisine in their respective domains.

Day Second 
The three-and-a-half-days long celebration of Mexican cuisine entered day second on July 27, 2012. The day was marked with thunderstorms and loud hail outside the auditorium but inside, it was truffle hunting and lot more for Mexican cuisine. Chef Guillermo González Beristain of Pangea (Monterrey) discussed with the audience the "Monterrey's strength", which he revealed are "its people." He shared a video in which he goes truffle hunting in Nuevo Leon and also prepares a dish out of burnt mesquite and some meat, right out of a kryovac bag. Mexican food researcher Diana Kennedy went to an extreme when she advocated a boycott of ingredients, which are imported. She called upon the chefs to revolt against the imported ingredients and make a difference.
The popularity of Mexican cuisine in America can be gauged from the popularity that restaurant chains like Del Taco enjoy. While Mexican food figures in American school lunches as well as fine dining restaurants, it is also looming large as part of the food truck craze in some of the major American cities. The Mesamérica celebrates the all-pervasive existence of this cuisine on our palates. Do you love Mexican cuisine as much? Which is your favorite Mexican dish?
Image Courtesy: mesamerica, hospitalitysolutionsinc
Mesamérica Creates A Mexican Wave Of Ideas