What's For Dinner?- Rats!
Dinner in honor of artist Laura Ginn turned out to be a whale of an experience indeed! True to her theme titled as "Tomorrow We Will Feast Again on What We Catch," the artist fed her guests with delicacies prepared from the 'Rat'. It was rat terrine, rat roast, braised rats, you name it and the dish was there. But why such a bizarre menu that too in celebration of Laura's genius? Read on to get your answers.
Ginn herself believes in survival of the fittest or plain survivalism if you please. She was seen greeting her guests in a unique attire consisting of rat pelts. The outfit had been totally designed by the lady herself, tails and all. The entrance to the dining area was marked with large cat's paws and the diners had to sit on uncomfortable tripods while trying to ingest the ratty meal. Don't forget they paid $100 per plate for this!
The Dishes Served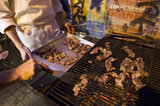 The menu was quite elaborate and cooked completely out of the ordered rat meat which had arrived unskinned and frozen.  The first course turned out to be goat cheese crostini overlaid with a tiny piece of rat's meat along with a small shot of gazpacho(no rat here). The foodies noted the similarity of the meat to lamb but felt that the strong aroma of goat's cheese had somewhat overwhelmed the taste.
Pork and Rat terrine turned out to be salty and yummy while the deconstructed salad served with it helped to bring out the taste of the mousey dish. Rat Two Ways turned out to be the main course with half a roasted rat and a braised one served together. Ms. Ginn had kept hovering along, making small conversation with her guests all this time but she suddenly seemed to lose her restraint at this stage, scooped out the meat with her teeth , leaving the bones glistening white. It was a high drama all right!
The dessert was a bit of a French toast topped with a tiny piece of rat jerky. But the highlight of the evening was the full head of a rat that was placed on a plate, besides each guest. The meal was said to be a "post-apocalyptic hunter-gatherer feast." It tried to break the American taboo with weird food  and introduce an ingredient that was eaten as a part of normal fare in almost all parts of the world.  The idea of recreating gourmet, upscale dishes with such ingredient proved the point though.
The mood at the dinner party was quite jovial and rat jokes abounded. However, a few of Laura's artist friends were in for the novelty of the cause and could not stomach the rodent filled adventure to the fullest.
Well, talk of the quirks! We wish Laura and her ilk every success with their mouse menus but personally I just don't give a rat's ***. What about you?
Image Credit- triathletesjourney.blogspot