Cheer The Indian Olympic Players By Eating Them!
27 Jul 2012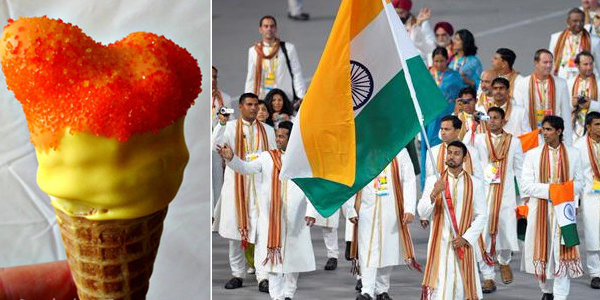 The D-Day i.e the London Olympics dawns at last! And India is suitably charged up as well! The biggest ever contingent has converged on the British Isles with prospects of  medals looking increasingly brighter this time. But what about us, poor old folks who have to stay at home? Fret not, for Mumbai restaurants have come up with a unique idea of naming their special eats for the Olympic Players. Let's see if you can pop your favorite sportsperson in your mouth and gulp him down.
The Olympic Specials
A dinner delivery service has decided to cash in on the Tennis sensations this time. So it's the Bhupati Bombay Gotala and Paes Fish Cakes vying to be served with the dish of minced lamb. Is it what they are going to make of Sania who had been unnecessarily dragged into the whole mess?  But of course the queen of rackets are not given a miss. It's the mouthwatering Saina Kathi Kebab as well as the Mirza Galauti Kebab that are high in demand as the Indians pointedly choose to ignore the squabbling tennis aces Lee & Hesh.
Lesser known individuals like Krishna Poonia, the discus thrower and Narang the shooter are brought to memory as you order the Wild Mushroom Soup with Gagan Narang Pizza respectively at Bandra's waterfront.
The bar at Khar will definitely send your pulse racing as you toast the Indian contigent with Gold medal Spritzer or London Lemon Cooler drink mixes. A wide array of Olympic events also end up on your Chinese platter in the
form of "Triathlon Mushroom soup in oyster sauce" and "Trampoline Veg Spring Roll."
Desserts
Neeru Mehra's sweet shops will have you look around in wonder as you see cupcakes of all shapes and sizes being edged with badminton rackets and shuttle cocks. Red velvet rings depict the symbol of Olympics on top of the cakes while the Olympops are nothing but cupcakes and lollipops rolled into one. However, the rapidly diminishing Bolt Cake is a fitting tribute to the fastest man on earth whereas the Blake Flake Chocolate Cake is definitely as great a hit as the humble Jamaican athlete  himself.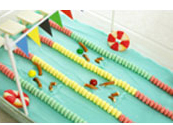 The Olympic venues are not forgotten either and you can now tuck into a "North Greenwhich Fish Tikka" or "fried Manchester Meen Kaidina" without setting a foot out of India.
Get set to cheer on the Indians by holding aloft an ice-cream torch cone made with rich Belgian chocolate and bright orange and red icing depicting the eternal flames that keeps the spirit of the Olympics alive.
Let the Games Begin!
Image credit- sports.deartz 
Cheer The Indian Olympic Players By Eating Them!