World's Largest Lollipop Unveiled At San Francisco
25 Jul 2012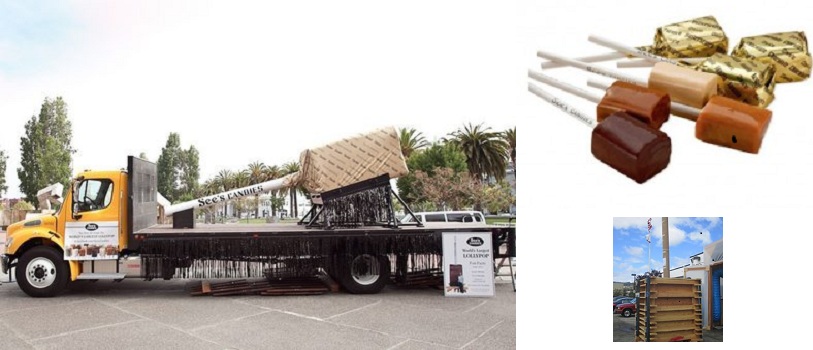 National Lollipop Day just went by on July 20 and See's Candies celebrated it with a massive, 7,000-pounds treat, which went on to become the world's largest lollipop. Well, what else do you expect from the candy company that has made a name for itself selling lollipops for a good number of years.
The World Record
Justin Herman Plaza, San Francisco, was the venue for this world record. See's Candies CEO Brad Kinstler sounded ecstatic about the feat as he chimed, "We are so pleased to have created a larger than life version of our favorite candy-on-a-stick." The record was adjudged by Guinness World Records adjudicator Amanda Mochan. After the massive lollipop was put up, Mochan declared it the new world record at the See's Lollypop Factory in California. The previous record belonged to Ashrita Furman, who had created a 6,514 pounds in 2009.
The Massive Lollipop
The lollipop was six feet tall, 3ft 6in wide and it was made in chocolate flavor. The lollipop was constructed at the company's Burlingame factory and it was built upon an 11-foot, 10-inch stick. If you thought the massive lollipop was distributed among the onlookers, you are wrong. What happened to Heston Blumenthal's world's largest ice cream is not what happened to this lollipop. Instead, the company has announced that this treat would be recycled to make smaller batches of candies and then put up on display at company outlets. The company also informed that in making this enormous candy, they used the same ingredients as used in other See's Candies goodies. If you want to watch the replay of this world record feat, go to the Giants vs. Dodgers game to be played at AT&T Park on July 29, 2012. The world's largest lollipop would be displayed during the game.
Kinstler said about this feat, "This accomplishment is a testament to our extraordinary production team, who spent many hours designing and constructing the world's largest lollipop. We can't wait to showcase this record breaking lollipop on National Lollipop day to our customers in San Francisco." Wouldn't you want a lick of the world's largest lollipop?
Image Courtesy: worldrecordsacademy, geekosystem, sf
World's Largest Lollipop Unveiled At San Francisco