McDonald's India Goes 'Cheaper'

23 Jul 2012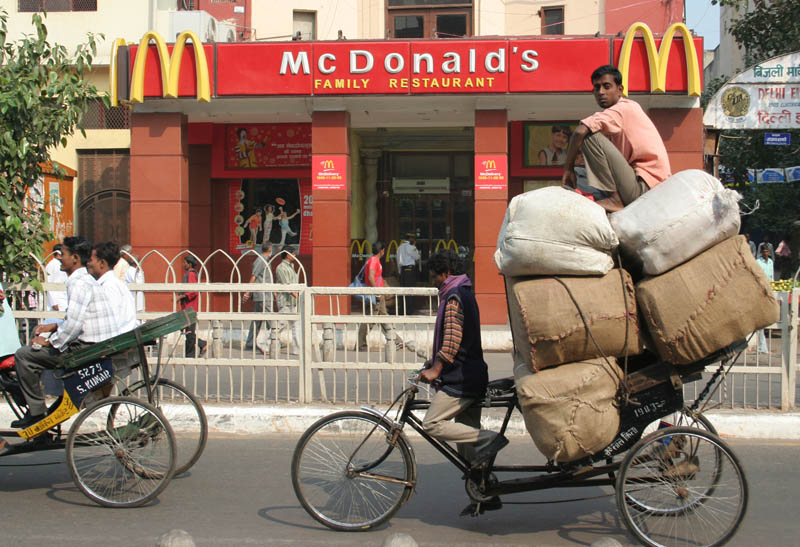 McDonald's India is facing a tough time these days, which has forced the company to reduce the prices of more than half of its food items by as much as 15%. The company is hoping that by doing so, it would be able to check the slump in its prospects in the country. This also happens to be McDonald's biggest change in its pricing strategy since it set up operations in India.
Cutting the Price
To start with, prices of all the entry-level products as well as those intrinsic to the company's menu will be slashed. Core products of categories like breakfast, desserts, and extra value meals will be brought down within the range of 6%-15%. This price change will be effective from August 1, 2012.
The Pressures
The company is facing serious pressure over the consumption of its products that has forced it to sell its products cheaper. Vikram Bakshi, McDonald's India (North & East) MD and joint venture partner, explains, "There is pressure on consumption and people are beginning to hold back spending...the objective of our price rationalization is to give them more reasons to come to our stores." Bakshi also said that while lowering its prices would mean lower profit margins for the company, McDonald's is ready to suffer lower profits because it wants to boost its sales. The strategy makes sense because the company's same-store comparable sales dropped to single digit figures in the April-June quarter of this year.
Speed Up Growth
While to the layman, this may sound like a not-so-good strategy, financial experts are happy at the turn of events because, they believe that this will help in enhancing the growth prospects for the company. One such expert stated, "The price reductions are substantial and overall it appears to be a good move in the current economic environment, as long as it is financially sustainable for them." McDonald's price cut move is echoed in what the spokesperson for Yum! Restaurants India, had to say, "With high inflation, we understand that consumers are looking for value more than ever. We constantly evaluate our strategy to keep our prices stable and continue to provide great value to our consumers across our brands."
The Indian Saga
Whatever McDonald's is trying to do may indicate that fast food is not a very popular pastime in India but that is not the case. Just like the rest of the world, Indians love their share of junk food. In fact, with a rising middle class in India, the demand for fast food is ever-growing. In a McKinsey Global Institute study, released in 2007, it was predicted that the Indian middle class would grow to be more than 40% of its total population by 2025. In wake of such encouraging figures, it is a surprise that McDonald's has not been able to cash in on the same.
It looks like it is time for some introspection for McDonald's, which seems to have begun with its price change. The company has already been set back by quite a few incidents in other parts of the world, be it losing the obesity suit or getting hacked. With low prices in India, maybe the company will finally turn its good luck back on track.
Image Courtesy: ascjportfolios
McDonald's India Goes 'Cheaper'