Wanna Drink From A Giant Wine Bottle?
20 Jul 2012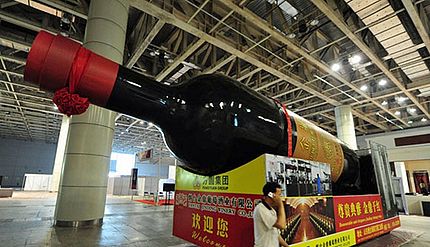 What if you were given a wine bottle 30-foot long and eight-foot wide? Would you be able to drink from it? We don't think so but that has not deterred the Jinding Company from picking up this bottle and putting it up for exhibition. The good news is that for your next party, you can just make do with one bottle of wine and this surely is going to be one of the most unusual wines of the world.
The Giant Wine Bottle
A very merry party could be had with the enormous bottle that was displayed at the Sixth Yantai International Wine Expo. The Expo was held in Shandong province of China recently and the bottle contained a fresh variety of wine, produced in the country. The bottle weighs 3 tons and it was perched upon giant stands very carefully. No wonder, China is soon going to be the world's largest wine producer.
Jinding Claret
The wine is Jinding Claret, which is a homegrown wine. The company even arranged for it to be served as samples to about 450 wine producers who had come to attend the event from all over China and abroad. A Jinding Company spokesman said, "We wanted to make sure everyone at the exhibition had the chance to taste our wine, and with the size of this it turns out one bottle was enough." In fact, the makers had prepared the wine in such a large quantity just so that all the visitors were able have a taste of the new wine.
The Giant Impression
With the giant bottle and the claret inside it, the Jinding Company certainly was successful in creating a good impression on the domestic as well as overseas wine producers. Some were impressed with the quality of wine while others were taken in by the sheer size of the bottle. After all, the company had paid $1200 for the gigantic booth (3x3 meters) at the Expo.
China's strong bond with wine has already been described above. With events such as the Expo, it looks like this bond is set to grow stronger. The only thing for you to learn now is how to pour wine properly out of this giant bottle.
Image Courtesy: austriantimes
Wanna Drink From A Giant Wine Bottle?