Bacon Cup With Lard-Covered Strippers!
17 Jul 2012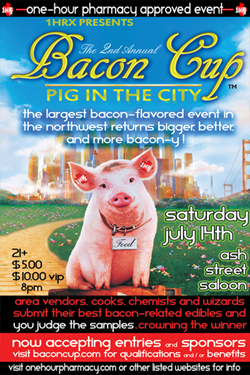 Portland celebrated its 2nd Annual Bacon Cup this weekend, the highlight of which was two half-naked PYTs battling each other while drenched in raw bacon and lard. While you adjust your popped-out eyes back into their sockets, be informed that the scene got a little messier with time. But no one was seen complaining while watching the two strippers grappling each other and slipping hard over bacon fat.
Bacon, Bacon Everywhere!
Portland loves two things very much - weed and bacon. Since weed is not legal here, the city celebrates its other love, that is bacon. America's overall obsession with bacon knows no bounds. There are bacon camps arranged for people to indulge in their love for bacon. Insane products are made out of bacon, for example this bacon bra. Then, there are a whole array of bacon-flavored drinks, chewing gums, candies, and what not! So, it is no surprise that the residents of Portland celebrate their bacon-love so ostentatiously.
What is Bacon Cup?
One-Hour Pharmacy (IHRx) Entertainment organizes this event every year, where bacon is the centerpiece. This year, the Bacon Cup was organized on July 14, 2012 at the Ash Street Saloon. There were celebrity chefs, local cooks, and culinary wizards who wielded their ladles and spoons in front of a panel consisting of celebrity judges. The judges, in turn, rated, reviewed, and consumed the bacon creations.
All are Invited!
The event organizers want everyone to come and enjoy themselves because the Bacon Cup has something for everyone, be it the Jews, the Muslims, the Vegans, or the Diabetics. Irrespective of the ethnic, cultural, dietary, or religious considerations, people from all walks of life can come here and enjoy themselves. There is Turkey bacon, bacon-flavored non-bacon, and, last but not the least, fake bacon, for those who cannot enjoy bacon as it is. However, the main focus remains on the fat-dripping, strips of protein, which are presented in every conceivable form.
The Fun Part
And of course, there is music! Musical performances rule the roost at the Bacon Cup, where crowds gather to enjoy planned as well as unplanned gigs from bands well-known and otherwise. The highlight of the event, as stated earlier, was the wrestling session between two females, inside a small pool filled with bacon and bacon fat. The women ripped off the scant clothing from each other's bodies, much to the delight of the spectators.
The Bacon Cup sure sounds like a lot of fun, especially with the stripping match between the women. So, if you missed it this year, keep yourself free for the next edition. As a consolation prize for the readers, here is the video of the wrestling match.
Image Courtesy: onehourpharmacy
Bacon Cup With Lard-Covered Strippers!