McFries To Rule Olympic Fast Food Scene!
16 Jul 2012
The London Olympics' strange food rules just got stranger! Just when there were talks of it being banned from the prestigious Olympics foodscape, fast food giant, McDonald's has thrown a spanner at its detractors. According to the London Olympics regulations, McDonald's owns the exclusive rights to sell French fries throughout the Olympics season in the British capital. If that means heartbreak for other fast food chains or local fries sellers, so be it. Who cares?
The Monotone Fries
We wonder why no one thought of the fact that selling just one kind of fries everywhere during the Olympics 2012 would be just boring. People traveling to London for the sports event will get to eat just McDonald's French Fries if they want some. So, in case you are heading to London, stop eating any Mcfries for now because once there, that is all you are gonna get in name of fries.
The Sole Exception
The only exception to this regulation is fish and chips, Britain's national snack food but believe it or not, the London Organizing Committee of the Olympic and Paralympic Games (LOCOG) had to seek permission from McDonald's to allow its sale. Now, if that isn't preposterous, what is?
The Note Says
It would break many a hearts, especially those which don't care much about the McFries, but the note released by the LOCOG says, "Due to sponsorship obligations with McDonalds, LOCOG have instructed the Catering team that they are no longer able to serve chips on their own anywhere within Olympic Park." By way of pacifying the ruffled feathers by this decision, the Committee further states, "Please understand that this is not the decision of the staff who are serving up your meals, who, given the choice, would gladly give it to you however they are not allowed to." The note adds, "The only loop hole to this is if it is served with fish." That is how the fish and chips got its pride of place in the Olympic Park but not without a warning in the same note, "Please do not give the staff grief, this will only lead to us removing fish and chips completely." So there, you have been amply warned. When asked about the explanation for this decision, Jan Mathews, head of catering at LOCOG, said, "Out of the 205 nations sending athletes, 195 are represented in the six Olympic boroughs and that means British food is world food. We are trying to make it feel like a food festival and we have walked round Borough market several times to try and get that feel.
The Media Cries Wolf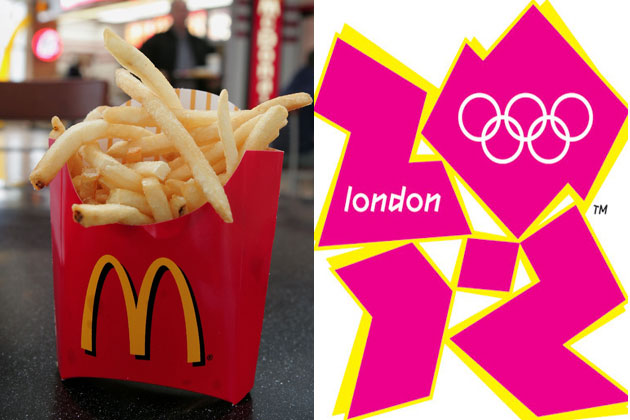 As per the agreement between McDonald's and the International Olympic Committee, not one of the 800 food retailers would be allowed to sell French fries at Olympic sites while the Games are on. While the public response is still to come, media has registered its reaction in different ways. While one newspaper wrote, "...McDonald's are so terrified of off-brand chips that they will only let you buy them as part of a British Heritage Ye Olde Fishe and Chippes package." Another celebrity tweeted, "So no local beer & McDonald's fries to be served at the Olympics despite London's culinary diversity. I hear Europe laughing at us from here." Renowned chef Erip Ripert is more scathing as he tweeted, "BIGGEST McDonalds @ OLYMPICS = biggest OXYMORON & they're banning every1 else selling fries?! Its the end fo the world."
French fries at Olympics equals to McDonald's only. So, what is your take on this? Is McDonald's right in overshadowing everything British culinary tradition represents? Or is everything justified in this age of sponsorship rights?
Image Courtesy: tsminteractive, veganstastebetter
McFries To Rule Olympic Fast Food Scene!