'The Golden Phoenix' Rises In Dubai
12 Jul 2012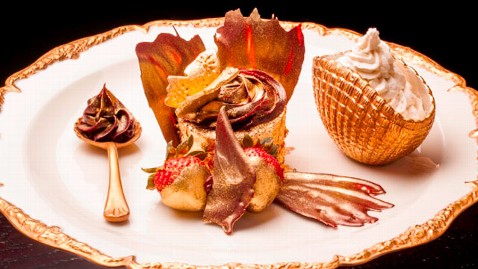 At $1,000, a Dubai store has created the world's most expensive cupcake and named it "The Golden Phoenix." With a price like this and a name like this, it is no surprise that this cupcake is making news everywhere in the world. To start with, the whole cupcake and its many embellishments, all wrapped up in edible gold is made with the finest chocolate. So, this is not just an expensive fix for your sweet tooth but also for your ego.
The Phoenix Rises
This cupcake boasts of the finest cupcake ingredients in the world, right from 23 carats of edible gold, in form of sheets as well as gold dust. The organic flour for the cupcake has been flown in from the UK, it has vanilla beans from Uganda, cocoa (premium Amedei Procelena) from Italy, and much more that gives it the exotic touch. The best thing is that this cupcake tastes as good as it looks. There is chocolate icing for frosting the cupcake and it is garnished with chocolate leaves and a chocolate butterfly, all covered in gold dust (where would the 23 carats of gold go!). It comes accompanied with two strawberries, you guessed it, covered in chocolate as well as more gold dust and a golden spoon filled with a scoop of wobbly chocolate. It would not be wrong to call this cupcake an overdose of chocolate and gold dust but then, how else would the bakery be able to sell it for a whopping $1,000?
The Revelation
The Golden Phoenix was unveiled in style by Shafeena Yusuff Ali, founder of the Bloomsbury Cupcakes, which has created this masterpiece. Ali unveiled this cupcake on a Villari Maria Antoinette Princess Tea Trolley plated in 24-carat gold and this was presented on a 24-carat gold-painted Empire Morning Cake Stand, much to the delight of pastry enthusiasts who attended the event. Speaking about the masterpiece, Ali said, "Our aim is to redefine the cupcakes in the Gulf, why can't a cupcake taste as good as it looks and look as good as it tastes." The cupcake was unveiled to the world at a new Bloomsbury location in The Dubai Mall. Ali informed that she took five weeks to develop this cupcake and she wanted people with "expensive sweet tooth" to enjoy her creation. Speaking about the cupcake, Vinay Lall, General Manger at Tables Food Company, Bloomsbury's parent company, said, "We have seen people attempt the most expensive cupcakes before, however those cupcakes are not edible as they are incrusted with diamonds and other components. This is why we decided that we would take the realistic approach and present the most expensive 'edible' cupcake in the world using the real meaning of the words 'let them eat cake.'"
The Backlash
While it would be difficult to expect someone to react so harshly to this beautiful creation, albeit the fact that it is a bit expensive for the common man but there has been serious backlash for this cupcake on Twitter (where else?). Some of the commentators on Twitter called the cupcake "ugly" and "pointless." One of the comments against the cupcake read, "I would just think that this money could be used for a better cause than obesity. But this is purely my belief." Ali responded by saying, "Sorry you feel that way! I was making an honest effort to create something amazing!"
Ali has undertaken a challenging task and led it to culmination and for now the Bloomsbury bakery is basking in the afterglow of its most expensive cupcake. But there are many other expensive restaurant meals, many other expensive ice creams to partake. So don't just rest here, keep on reading, keep on eating!
Image Courtesy: abcnews
'The Golden Phoenix' Rises In Dubai