Secret Sauce Behind Big Mac Revealed!
12 Jul 2012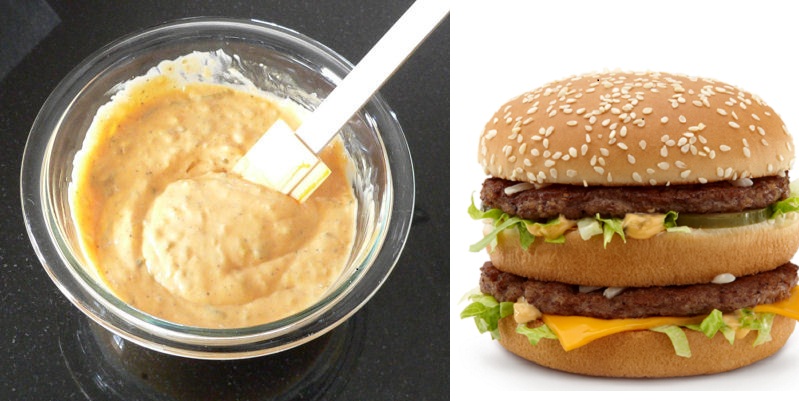 Whenever you bite into a juicy burger at McDonald's or KFC, don't you want to know what goes into such addictive food? Well, one such customer, Christine from Oshawa, asked McDonald's, "What is in the sauce that is in the Big Mac?" For starters, it contains mayonnaise, sweet pickle relish, and yellow mustard. Christine's question was replied to by McD's Executive Chef Dan Coudreaut, who even uploaded a video on YouTube, describing how a 'version' of the Big Mac can be made at home. This informal cooking session has been lapped up by McDonald's fans, who are clearly waiting for more such impromptu lessons in cooking their favorite McDonald's items at home. But here is the catch, the video shows you how to make a 'version' of Big Mac, not the exact Big Mac, so be prepared if you don't find it as tasty as the one you buy at your local outlet.
What's the Secret Sauce?
Many people assume that the sauce that goes into making those delicious, but dangerously unhealthy, is actually Thousand Island Dressing but as the video clarifies, it is not the case. Chef Coudreaut reveals that the sauce is actually a harmony of "opposite flavors" which come from the relish, mayo, mustard, vinegar, dried onion, and garlic. Also, there is paprika, to lend some kick and color.
Are You a McDonald's Chef?
Well, if you took Chef Coudreaut's words too seriously, you may be misled into believing that you can rustle up Big Macs for your next pool party but, take a breath, because that is not the case. What the video puts up for you is a Canadian version of McDonald's secret sauce and it breaks our heart to say so but the Canadian version is tastier than the American sauce. There is a reason behind why McDonald's does not reveal too much of its secret sauce, although it appears to do so.
When the Secret was Lost!
Did you know that McDonald's lost the recipe to its own secret sauce ? For the company, this was akin to losing a connection to its very roots. The formula to prepare the sauce got deleted or lost, it is not clear which one it was, but as a result, the sauce became less special with time, forcing the franchise to get into some detective mode and recover the recipe from a supplier in California. That recipe was first developed 36 years ago by the supplier and was, then, used to develop the sauce, once again in 2004.
People are always curious about what ingredients go into the fast food creations, which they relish every other day in their lives. A few months ago, a blogger claimed to have come across the KFC's secret recipe for its delicious crispy chicken. Now, secret or not anymore, the sauce that Chef Coudreaut teaches you in the following video, is close enough to what you get to eat with your store-bought Big Mac. So, when are you going to try it?
Image Courtesy: mcdonalds, delicious-cooks
Secret Sauce Behind Big Mac Revealed!