Global Rules To Govern Salmon Farming
10 Jul 2012
A nice grilled salmon is a mouth-watering treat, which is why there has been a three-fold increase in salmon production in the world since 1980. Since America loves its salmon so much, the next step obviously is to chart global rules so that such speedy rise in farming of this fish does not have any untoward impact on the environment, and of course, you keep getting healthy and environment-friendly salmon to eat always. This is what has happened recently and you would be happy to hear that the first set of global rules to govern salmon farming is expected to be implemented soon.
Seafood Farming
The issue that needs to be addressed here is not just salmon farming but overall seafood farming, for which, the start has been made with the salmon. It is an established fact that all over the world, seafood remains one of the most popular protein sources. Almost half of the seafood eaten in the world is caught wildly, which means the other half comes from farming system. Aquaculture, or rather growth of aquaculture production, has, therefore, become one of the rapidly growing industries. This rapid growth has also raised concern regarding its social and environmental effect, especially in terms of water pollution, spread of disease, and unfair labor practices. Global standards is, therefore, being looked upon as a tool to encourage more responsible practices in aquaculture, which includes salmon farming.
The Consortium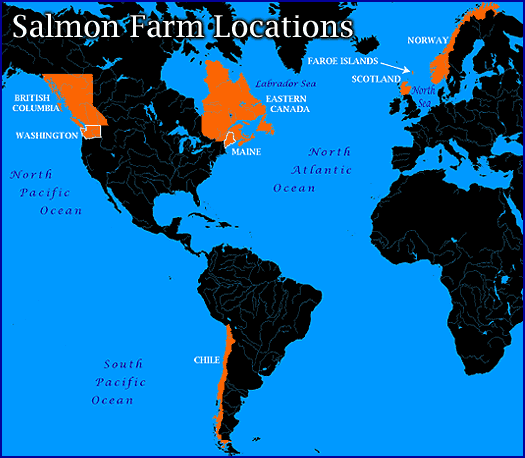 A consortium of environmental organizations, scientists, fishing executives, and government representatives, has been working on these rules. This consortium is called Salmon Aquaculture Dialogue (SAD) and it has been developing, for eight years, the "first comprehensive global standards" for farming of salmon. Katherine Bostick, senior aquaculture program officer for the World Wildlife Fund (WWF), who is also co-founder of the Aquaculture Stewardship Council (A.S.C.), a nonprofit group, which monitors salmon farming, is happy about it. Being a part of the consortium, Bostick said, "We're all quite glad to have reached agreement." There was a nine-member steering committee, which participated in the dialogue, which saw 500 participants from different walks of life put up their concerns and suggestions. Over the eight years, the consortium members met 16 times in cities across the world and the draft rules were submitted, revised, and then resubmitted several times over. The members of the steering committee include the WWF, the Pew Environment Group, the Norwegian Seafood Federation, the Canadian Aquaculture Industry Alliance, Fundación Terram (a Chilean group), SalmonChile Corporation, and Skretting.
The Rules
The global rules are enshrined in a 91-page document, which sets apart 100 standards for fish-farming around the world. It is expected that the new set of global rules would raise the bar for farmed salmon, which are sold at retail outlets. The biggest step towards a standardized salmon farming sector is the bluish-green retail label – "Farmed Responsibly, A.S.C. Certified" – to be displayed on salmon packaging or at store counters. The standards would be implemented later this year. Speaking about the discussions leading to these rules, Bostick said, "Nobody got everything they wanted, and everyone made compromises. We're aware that the standards are not perfect, but these standards will be more effective than any existing standard in creating change on the water." Hernán Frigolett, a representative from Fundación Terram, said that the new standards are likely to "challenge the industry to improve in many areas, and they are one of many tools that must be used to insure the health of the environment, industry and society."
Salmon is a popular seafood not only because of its taste but also because it is considered to be an aid to weight-loss. Considering the fact that 70% of salmon retailed in the world comes from fish farms, more than half of which are located in Norway and Chile, with Scotland and Canada being other significant producers – these standards will surely spell something good for the fish, the farmers as well as the salmon-lovers across the world.
Image Courtesy: whyfiles
Global Rules To Govern Salmon Farming