Coma Patient Wants To Eat KFC Burger!
3 Jul 2012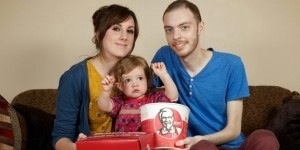 Doctors usually advise a transplant patient to stick to a light diet. But what  about the one who woke up from an eight-day coma? Well, the case of Sam Boughen, a 26-year-old man suffering from genetic liver disease, is surprisingly different! The transplant patient woke from a coma - to ask for KFC chicken burger! Yes, a chicken burger, no less. How disappointing that must have been for his fiance, Saffron, who was expecting him to say 'I Love You' but, instead, Sam was hankering after a burger.
The Coma Patient
Sam was suffering from a rare genetic disease in liver, which had put him on the brink of death. He underwent two transplants, which saved his life but not before inducing an eight-day long coma in him. He was battling for his life on life support system before he woke up from his coma.
The KFC Order
His family was overwhelmed to have him out of the deep slumber as they continued their day and night vigil by his bedside. Since he was physically weak from two transplants, he was using an iPad app to communicate what he wanted. Sam's father Martin said, "We had an app that meant he could write what he wanted to say." Sam wrote on his iPad that he wanted to order a KFC burger with gravy.
The Anticipation
As Sam wrote his first words after coming out coma, his family was by his bedside, hoping he would write something emotional for them. Martin said, "We all held our breath the first time he started writing. We thought he would tell us that he loved  us - but instead he asked for a KC. Then we knew we had Sam back." Well, the Glastonbury resident did not even speak of his 19-month-old daughter, Lottie.
Fried Chicken Fan
Sam is a die-hard fan of fried chicken, says his family. Explaining his love for the fried poultry, he said, "I don't eat many takeaways - but if I do it would be KFC. For some reason chicken must have been on my mind - because the first thing I asked for was a KFC chicken burger with gravy. Unfortunately I couldn't eat it because I was too ill." Actually doctors had forbid Sam from eating the burger. Well, that is a shame!
Food has been on Sam's mind for quite a long time. Before his transplant, when he was in the hospital, he had tweeted, "I wish my stomach would settle! I want to eat!" Well, now that he is recovering at his Glastonbury home with his fiance and daughter, Sam must be eating well.
The news would come as flattering to KFC, who recently faced some humiliation after an Australian court asked the fast food giant to pay $8.3 million in compensation to a girl who was severely disabled due to consumption of a 'poisoned' Twister, believed to be contaminated with salmonella.
Image Courtesy: samuelobour
Disclaimer: The image copyrights belong to its owner. The usage of the image in this blog is purely for the entertainment purpose. No copyright infringement intended.
Coma Patient Wants To Eat KFC Burger!