Wanna Have A Pork Pie Wedding Cake?
2 Jul 2012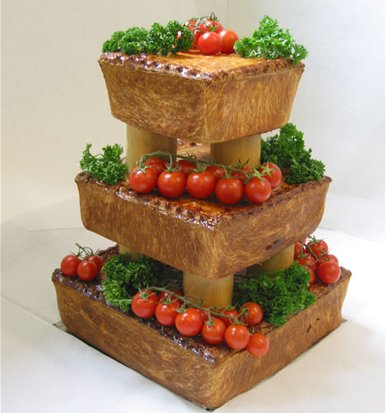 Have you had your wedding yet? If not, here is one of the most unusual wedding cakes, an idea for you to pick up for your party. Well, there are couples, married recently, who have very bravely ditched the traditional icing and cake in favor of the pork pie wedding cakes. What's more! The guests are licking their fingers for this one. So, read on to know about it:
The Brave Couple
For centuries, wedding cakes were described in terms of cheesecake, Victoria sponge, fruit cake, icing, and what not. Well, all that changed when pork pies took their place. Recently, a couple from Oxfordshire in Britain decided to say goodbye to the miniaturized bride and groom figurines on the icing and went for the pork pie wedding cake. The couple in question are Tom and Bryony Disbury, who asked the Lincolnshire pork pie makers Adam and Harlow, to make their wedding cake.
The Pork Pie Wedding Cake
The 'perfect' wedding cake, in this case, was a five-tiered cake made with pork and chicken pies. Each tier was hand-crimped on edges and decorated with tomatoes, herbs, and of course, ribbons, and flowers. You can't ditch tradition all the way, right? The cake is 60cm high and the heaviest tier on this cake weighed six kilos, while the smallest one weighed just half a kilo. It cost the Disburys £180 to get this one.
The Pork Pie Makers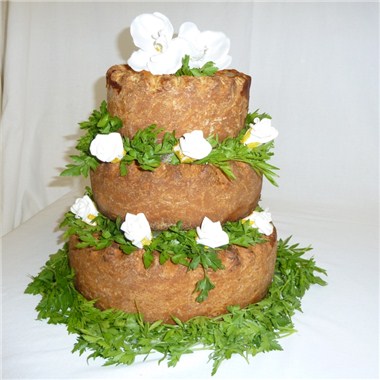 For the pork pie business, who are being introduced to the wedding cake trend, it is a first, just like it was for Adams and Harlow, who have been making pies for the past 100 years and more, but had made their first pork pie wedding cake for the Disburys. But once, the news broke out, they have been battling a string of orders for similar cakes for the weddings, due to take place this summer.
The Publicity
With the pork pie wedding cakes generating too much hoop-la, it is no wonder that the pork pie makers are trying to latch on to this trend with all their might. In doing so, they are doing their best to advertise their wares, like one pie-maker advertised on his website, "These pork pie wedding cake pies, hand crafted in our own in-house bakery, come in squares of ascending sizes of 7, 9, and 11 inches and are ideal for the couple who dare to be different." Another one said, "For that special day, we provide three sizes of pork pies for the perfect pork pie wedding cake. Made from locally sources succulent pork seasoned with salt and pepper and encased in our own crisp pastry!"
Well, wedding, every year, set new trends and the trend this year seems to be the pork pie wedding cake.
Image Courtesy: nelsonsbutchers, wilsonsbutchers
Wanna Have A Pork Pie Wedding Cake?