Coca-Cola's $5bln Plans For India

28 Jun 2012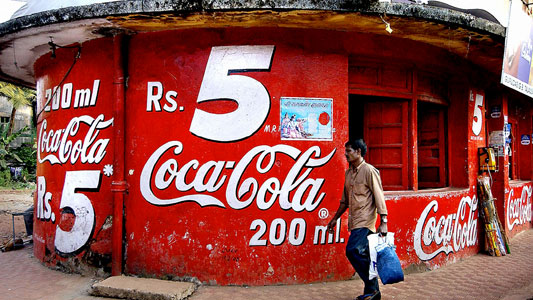 On his first visit to India in four years, Coca-Cola CEO, Muhtar Kent had some good news for the Indian market. The company intends to invest money to the tune of $5 billion by 2020 in India. No prizes for guessing that the money would be invested in supplying more beverages to the country, which is already fighting with rising levels of obesity and diabetes. Quite naturally, the news has raised the heckles among the public health advocates and many NGOs, who see it as a Western onslaught on Indian population's health.
Kent Comes to India
When Chief Executive Kent landed in India and made his first public appearance, he was beaming with joy as if he had discovered a treasure chest in India. During his visit, he said, "We think there's potential here." Announcing his company's decision to invest $5 billion in India, Kent said, "Our India story is one of a remarkable turnaround. Six years ago, we were not strong here. Today, our India business aspires to be among the Top 5 countries by volume in the entire Coca-Cola system by 2020."  Speaking about the reason behind this decision, Kent said, "We plan to invest $5 billion in India between now and 2020. Why are we increasing it? We're absolutely confident this is the right decision, given the vast growth opportunities here in India. In the last 10 years, we have invested $1.4 billion. Now, we are trebling that investment in the next eight years."
Pushing India's Cart 
In the last few months, the Indian economy has shown signs of weakness, leading many to think that maybe India's growth chart was finally slowing down after the country had enjoyed such a great run in terms of market capitalization. Therefore, Kent's announcement has come at just the right time and it has, once again, boosted the economic growth chart for India. As Kent pointed out in his speech, India consumed an average of only 12 eight-ounce Coke bottles a year per capita in comparison to 240 in Brazil and 90 the world over. Therefore, the scope of growth is there and Coca-Cola is all set to tap it.
Not Everyone is Happy
While the Indian government, economic experts and local marketers may be rejoicing at this piece of news, there is a section of people in India, which is looking at it with all the skepticism. Considering the fact that just a few years ago, a local NGO had accused Coca-Cola of causing groundwater depletion and water pollution in the areas surrounding its manufacturing plants in India, the company is putting up a brave front with a billions of dollars worth of investment planned for this decade. Although, Coca-Cola countered the NGO's campaign with a series of ads, describing the sanctity of its products and refuting the charges leveled against it, the damage was done.
What About Health?
Just like the rest of the world, India is also becoming more conscious of its health problems and, therefore, more soft drinks may not be the right choice for Indians right now. But is Coca-Cola worried about that? Not really as Kent said, "We provide choices, marketing labeling, and awareness about energy balance and so on. We play a meaningful role around over-nutrition (obesity) as well as under nutrition."
Over the years, Coca-Cola has made many attempts to revive its presence  in foreign shores. Armed with extensive marketing through mass media and outdoor advertising as well as a unique pricing and distribution system, Coca-Cola has gained acceptability in India, which is set to get a boost with this $5 billion further investment. However, in wake of the pollution charges, a growing consciousness for healthy drinks, and sturdy competition, it remains to be seen whether Coca-Cola will be able to brave the next 10 years or not.
Image Courtesy: marketinomics , indiaresource , prcocacola.blogspot 
Coca-Cola's $5bln Plans For India