Here Comes The Garlic Bread Pizza!
27 Jun 2012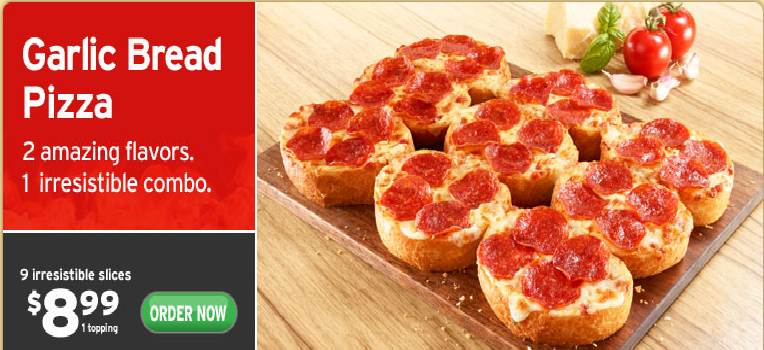 The new item on the Pizza Hut menu has everybody going gaga over it and with most of those asking why didn't the restaurant chain think of it earlier! The Garlic Bread Pizza is made with, what else, but garlic bread, topped with gooey cheese and regular pizza toppings. The buttered garlic bread, which forms the base of this new pizza item, lends a delicious twist to the regular pizza experience.
For now, Pizza Hut is selling the new item as a set of nine one-topping slices for $8.99.
First Peak
The First Peak of the garlic bread pizza was shown to the Pizza Hut fans on June 24, 2012, on Pizza Hut's official Facebook page  for the purpose. The pizza chain made an official introduction of the new item on its menu the next day. If the Facebook comments (830 in all) and Likes (15,500 so far) are anything to go by, the garlic bread pizza is already a hit. The fact that Pizza Hut declares on its FB page, "Why didn't we think of this before?" represents the excitement surrounding the launch of this new product.
The Unstoppable Pizza
Well, it is not for the first time that Pizza Hut has come up with new innovations, which, though outrageous, have hit the mark more often than not with customers. Some of Pizza Hut's most successful creations are - Cheesy Bites Pizza, Cheeseburger/Chicken Strips Crown Crust, Hot Dog Stuffed Crust Pizza, and Big Dinner Box. With each of these innovations, Pizza Hut has raised the benchmark on its own products and kept the customers thirsting for more.
The P'Zolos
Among the most recent innovations of Pizza Hut was the P'Zolo, a pizza sandwich, which the chain launched to tackle the Subway sandwiches' popularity . The P'Zolo was launched in three flavors - Buffalo Chicken, Meat Trio, and Italian Steak - and it was priced at $3 per piece and $5 for two pieces. The Garlic Bread Pizza, though, priced higher than the P'Zolos, comes in more quantity, which makes the former a better deal.
In the cut-throat world of fast-food, staying ahead of the competition is the key and Pizza Hut chain seems to have mastered the art of using this key very well. Now, waiting to see what comes out next from the Pizza Hut kitchen.
Image Courtesy: pizzahut
Disclaimer: The image copyrights belong to its owner. The usage of the image in this blog is purely for the entertainment purpose. No copyright infringement intended.
Here Comes The Garlic Bread Pizza!