Twin Peaks' Reign Continues In Restaurant Biz
25 Jun 2012
Last year, you must have heard of a titillating battle between two restaurants, Hooters and Twin Peaks over fleecing trade secrets. This year, it seems, the trade secret is already out and the two restaurants are joined in by many more such eateries, which thrive on skimpily-clad women servers catering a large clientele. A term doing the rounds is the "breastaurants" and it describes the league of restaurants within the restaurant industry, which was hitherto completely sidelined.
Most of these are small restaurant chains, which operate on the principle set up by the pioneer in the field, Hooters, since the 1980s. Although, in the recent years, such restaurants were found to be in a beleaguered state, things are changing now.
These restaurants and their owners have become more brazen and outspoken, as reflected in the logo of the Twin Peaks restaurant chain. The logo, in this case, is an image of two snow-capped mountain peaks and its owner Randy DeWitt proclaims, "We believe in feeding the ego before feeding the stomach." The restaurant website couldn't have explained any better than this – "Twin Peaks is about you, 'cause you're the man!"
Well, if you are a man reading this, what better invitation can you get to visit a restaurant or a sports bar? But don't get us wrong, it is not all about lust.
In fact, these restaurants, the news ones in the show too, are looking up refreshing themes and variety of menus to keep the customers in their seats. From rustic lodge look to Celtic settings and from burgers and wings to shepherd's pie, everything is meant to attract men with large appetites.
Technomic, a research and consulting firm for the food industry, three of the top four "breastaurant" chains in America registered sales growth of 30% or more since last year. Hooters, no doubt, is still on the top, but others in the category are fast catching up, their journey to the top made easier with the economic downturn, which has affected mid-priced restaurants like Applebee's and Bennigan's.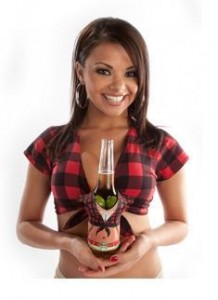 Young Americans want to break free from the restaurants, where their moms and dads ate and hung out. That is why restaurants such as Tilted Kilt Pub & Eatery is the new direction in which the young customers are headed – not the least because the waitresses are wearing bras and tartan mini-skirts. Tilted Kilt was one of those restaurants to register a growth of 33% last year, says Technomic. So, is there a sign in there for us to read? You bet there is!
The fact that even the big daddy in the field, Hooters, has also been forced to make some changes, ever since the chain was bought by a group of private investors last year, corroborates the fact that "breastaurants" have finally arrived. Hooters' management has recently opened a renovated outlet in Atlanta, which boasts of upgraded TVs, a covered patio, and an outdoor bar. What about the scantily-clad waitresses, who are the hallmark of this restaurant? Well, nobody's is thinking only of them these days. It is the menu, which is more important, as Hooters beefed it up with Baja Burger, Buffalo Chicken Sliders, and a Spinach and Shrimp Salad.
While explaining the success of "breastaurants", Darren Tristano, Technomic's executive vice president, said, "It starts with comfort. These concepts are growing by offering a different level of service and attentiveness. They provide a service to men who may not have a person at home to take care of them in the same way. That's important to a number of people, and it drives them back."
Image Courtesy: mydiyangels.com, blogs.kansas.com
Twin Peaks' Reign Continues In Restaurant Biz