Man Uses Sausage Links To Attack Victim
21 Jun 2012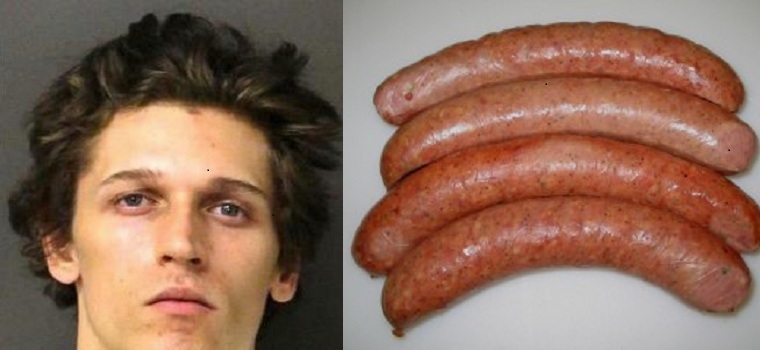 What would you do if you were on an early morning bike ride, busy with your own thoughts, and suddenly, you were attacked with sausage links? This is what happened when an unidentified man was cycling along a quiet path, and was suddenly attacked by another man, named Michael A. Baker with, what else, but sausage links.
This is one hazard the victim's parents must have not told him to stay away from while riding a bike.
The incident took place in Holbrook, on Sunday morning, and the aim behind the attack was robbery, at the face of it, at least. There is no news about whether Baker was suffering from some psychological problem or not.
The victim, whose identity has been kept a secret, told the police that he had no idea why Baker had attacked him. In fact, processed meat was just the beginning of the attack as Baker switched to a wrench during the later part of the attack, injuring the victim seriously. He is currently being treated for multiple lacerations.
After the attack, Baker is alleged to have stolen the bike as well as a silver chain and a ring from the victim. Holbrook Police Lieutenant David Dickinson said about the incident, "He (victim) said he was trying to hit him with that (sausage links). The victim had no idea why." Lt. Dickinson added, "Baker started swinging links and began smashing the victim with a wrench."
A jogger was the only witness of the incident and it was he who identified Baker later on, leading to Baker's arrest, along with the stolen bike. After being arrested and charged with assault and battery, armed robbery, and disturbing peace, Baker was arraigned in Brockton District Court and held on a bail of $1,000.
If you thought, sausage links were the first food item to be used to physically hurt somebody, don't worry, there are other foods too, which can come in quite handy during such attacks. Like a raw steak, which one Elsie Egan used to hit her boyfriend after the latter demanded a bread roll from her or minced beef packet, with which a male was hit in the face by one Chantille Rodway.
So, after the Holbrook incident, if someone tells you that all the sausages of the world could well be weapons of mass destruction, don't dismiss the claim right away!
Image Courtesy: mikesyankeebbq.com, Facebook.com
Disclaimer: The image copyrights belong to its owner. The usage of the image in this blog is purely for the entertainment purpose. No copyright infringement intended.
Man Uses Sausage Links To Attack Victim