Vegans Can Now Eat Chicken

21 Jun 2012
Eating meat has been a common practice in the West, it is only recently that America, and countries of Europe have woken up to the health hazards of over consumption of meat. With quite a number of the rich and famous brigade giving up flesh to go vegan, eating meals bereft of any kind of animal protein has begun to gain in popularity. But don't we still miss the satisfying crunch of chewing on flesh and trying to tear off the soft and yielding meat from the bone? Sure we do and thats why "Beyond Meat" has roped in Whole Foods Grocery chain for distributing their fake chicken strips to all deli stores in North California. Well, the product must really be groovy as Ev Williams & Biz Stone, the founders of Twitter are backing it as well. Let's see what the vegan chicken is really all about.
What Is It Made Of?
Vegetable protein forms the base here with the actual product being fashioned out of soy and pea protein together with gluten free flour and fiber from the innocuous root veggie-carrot. The entire mixture is then subjected to heat and cooled off before being put under pressure until it mimics the actual feel of chicken meat. The process was perfected over a number of years and several bio-engineers struggled to imitate the taste and feel of meat in their newest plant based chicken. Ethan Brown, one of the founders of Beyond Meat explained that the same process can be used to create fake pork, beef and fish products too. He is looking forward to woo the meat eaters away from animal flesh thus stopping all cruelty to them. Hope PETA is listening!
Is It Healthy?
The delicately fashioned chicken strips are completely devoid of steroid, antibiotics, hormones or fats. There are absolutely no hormones injected into the vegan meat making it way better than  ordinary poultry or even a sustainable chicken  product. In fact, the extra calcium and iron in it only helps to improve bone health while ensuring that the hemoglobin level is not compromised with. Check out the chart below for nutritional details.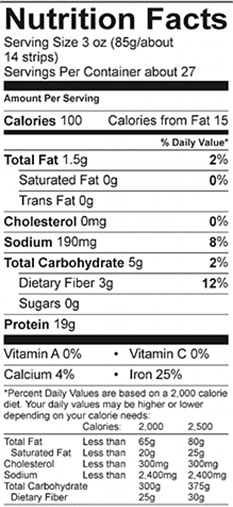 How Does It Taste?
Beyond Meat has managed to cleverly keep its vegan chicken strips a bit uneven so as to fool the hard core meat eater. The taste and the way it feels while chewing on it is typically akin to a chicken as is the way it disintegrates in your mouth. The actual taste is rather bland though but then one can also say that is what makes it a better chicken.
Mr Brown had also successfully managed to convince Mark Bittman, food columnist for the New York Times. Bittman was totally flummoxed after tasting the pseudo chicken and managed to say, "you won't know the difference between that and chicken. I didn't, at least, and this is the kind of thing I do for a living."
However, it will definitely be the price more than its taste that is likely to attract the meat eaters. The Chicken Strips have been sold out in just two days and Mathew Mestemacher, the coordinator for Whole Foods admits being taken aback at its popularity. We will have to wait for the fake chicken to be available all over the country. So far, it is only the residents of Northern California and parts of Western Maryland who could manage to get their teeth into it.
The vegans would soon be able to count their chickens without any fear of them hatching at all. So keep your fingers crossed for the vegetarian chicken to enter your kitchen!
Image Credit- balancedhealthy 
Disclaimer-The image copyright belongs to the owner. The usage of the image in this blog is purely for  entertainment purpose. No copyright infringement intended.
Vegans Can Now Eat Chicken